Riu Palace Maldives Reviews – What to Expect
The Riu Maldives is a five-star hotel that offers guests an excellent experience. The hotel boasts a great location, good services, and comfortable rooms. It is perfect for those wanting to enjoy the beauty and all the features of the Maldives. But what is the resort like, and what can you expect at the neighbouring Hotel Riu Atol? Read on for Riu Palace Maldives reviews covering the areas that make or break a luxury holiday.
Riu Palace Maldives Reviews | Quick Links
This post contains affiliate links which means I may earn a small commission if you choose to buy anything from them. This is at no extra cost to you and In doing so you help to keep this site running, so thank you in advance.
This review reflects my experiences at the Riu Palace Maldivas on the private island of Kedhigandu on the Dhaalu Atoll in December. Naturally, people may have different opinions, but these views honestly reflect my stay at the Riu Maldives resorts.  
Getting to the Hotel Riu Palace Maldivas
If you travel from abroad, you will arrive at the Male International Airport in the capital city. However, there is still a lot of travelling ahead.
Many Rui Palace Maldives reviews often state this as one of the challenges of this resort. Read on to decide for yourself.
Domestic Flights
Travel to Riu Maldives resorts requires a domestic flight. The flight is short, and the small airlines could easily rival the quality you expect from your local travel providers. However, they run a somewhat irregular schedule for such a popular holiday destination. You can also select a seaplane which is a more costly option but a more memorable experience. The seaplane may only be a selection in some packages, so check this beforehand.
If you're booking a package holiday, it will include a disclaimer saying they cannot guarantee the domestic flight time. So, unless you're lucky or book a flight separately, you will likely have a long wait. For example, we waited 5 hours for our flight to Dhaalu airport.
However, there is a small comfortable airport lounge. It provides light snacks and hot and cold drinks, which helped ease the pain of another long wait. Your package may already include lounge access, but separately purchasing this costs around $45.
Airport Transfers
If you're not arriving by seaplane, you must catch a coach to the harbour. The Hotel Riu Palace are well organised and will await you when you get off the plane. Luggage will be taken separately and should arrive promptly for departure. The bus was slightly cramped with little room for hand luggage, especially if you're a tall person like me. It doesn't take long, though, and you'll be so excited to end your journey to paradise that it won't bother you too much.
Boat Transfer
If you're staying at the Riu Maldives, you will also need to catch a 15-minute speedboat transfer which should be waiting for you when you get off the bus. Sit on the boat's top deck if you'd like to feel the sun and enjoy unobstructed views. Although, if you prefer the shade, there are seats indoors.
What to expect at the Riu Maldives Resorts
The island has two sides, the Rui Palace Maldivas and the Hotel Riu Atoll. The critical difference is that the amenities on the Rui Palace side are more luxurious. For example, the standard water bungalows have outdoor baths. You can also use the facilities of the Hotel Riu Atoll, but the Atoll guests need help to dine in the restaurants, etc., on the Hotel Riu Palace side of the island.
While both Riu Maldives Hotels have a vast selection of exclusive overwater suites, some with private pools, there are also beautiful garden/balcony suites. The garden suites open right onto the beach into a stunning tropical paradise. In comparison, the water bungalows provide luxurious privacy directly over the ocean. You can even have a bath as the sun goes down.
---
Guide to Food and Drink at your Maldives Resort
Being vegetarian, the restaurant food at the Riu hotels & resorts was, unfortunately, one of the most disappointing parts of the Riu Palace Maldives reviews.
Reservations are required for al-a-carte restaurants, and it can take a few days to get a booking, so do this as soon as you arrive. The speciality restaurants available are Italian, Fusion, Japanese and Steakhouse.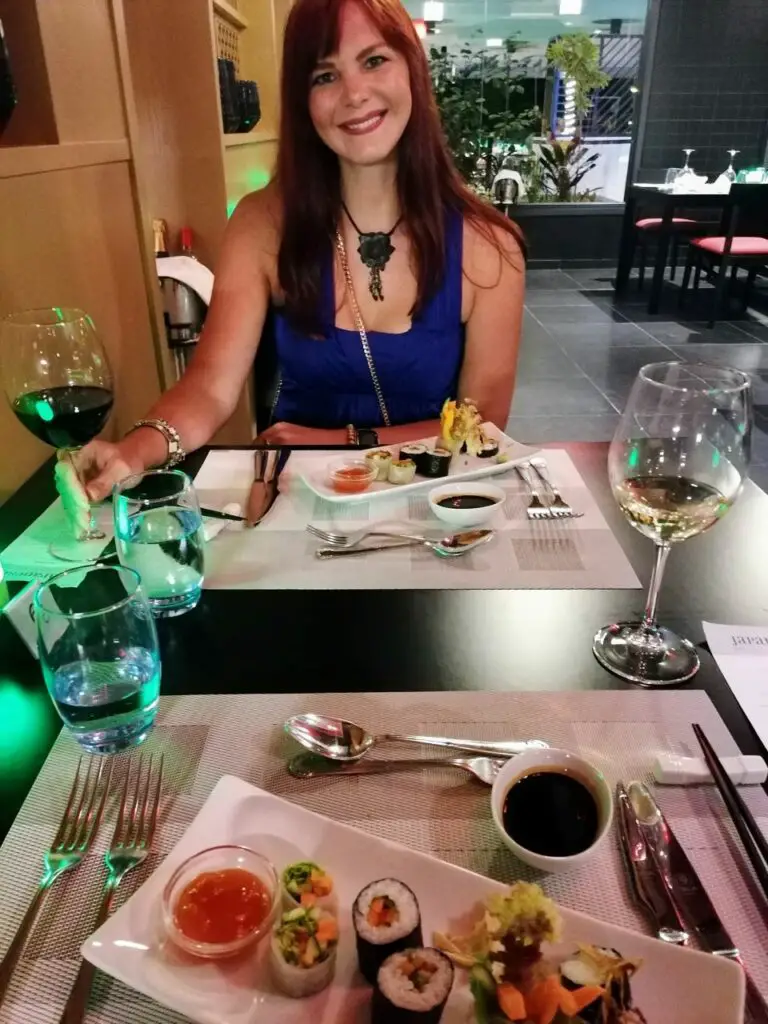 The cooking station at the buffet had similar food every day, and the al-a-carte restaurants didn't cater well for vegetarians either. Be bold and ask the chefs to make something special if you have dietary requirements. Our experience at the Japanese restaurant was amazing but needed to be specially catered for us.
There are three bars/lounges at the Riu Hotel, including a swim-up bar, lobby bar and a sports bar at the Riu Atoll, open 24 hours. There are also premium spirit options. Unsurprisingly, the better you tip, the better your drink tastes!
Entertainment Options at the Riu Hotel & Resort
At the Riu Palace Maldivas, you can expect sunset DJs setting the scene of the golden hours. In contrast, the Hotel Riu Atoll has live bands in the evening.
In addition, both sides will have pool/beach-related activities during the day. For example, the magic carpet in the swimming pool or line walking between palm trees.
At the Riu Palace, the entertainment programmes are pretty poor as there isn't much variety. So entertainment is also a weaker element of the Riu Palace Maldives reviews, but it does give a great reason to socialise.
---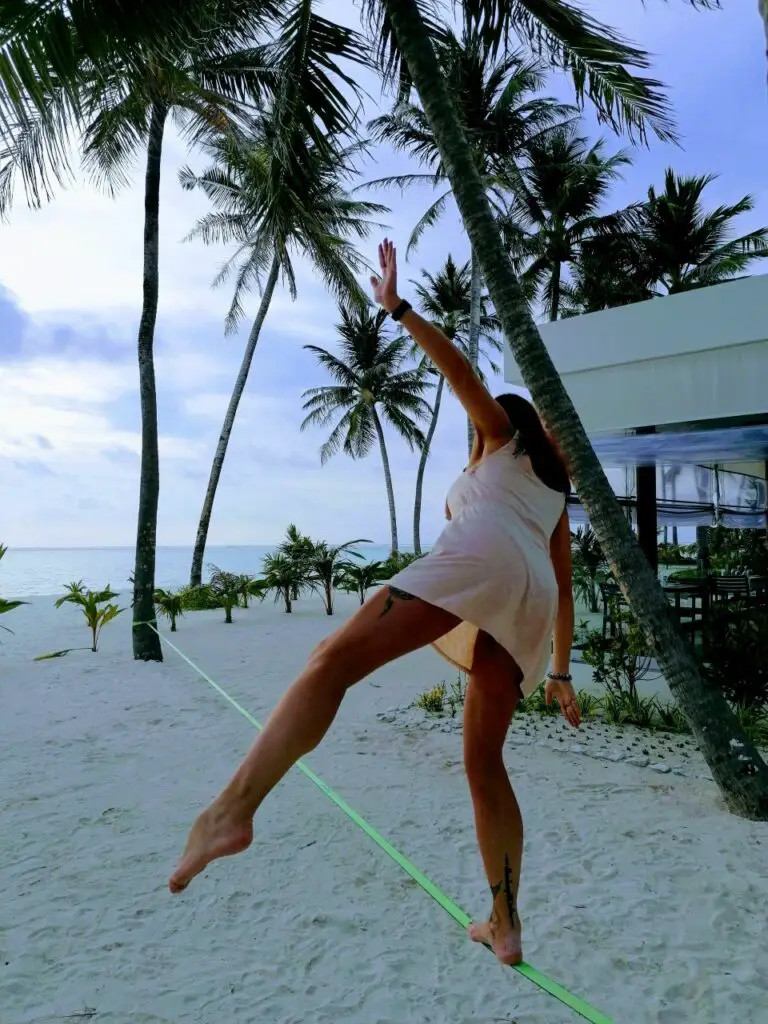 ---
Maldives Travel Guide to the All-Inclusive Activities
The Riu Maldivas resort provides inclusive non-motorised water sports such as snorkelling, paddleboard, pedalo and kayaking. The Riu Palace also gives you a free scuba taster (in the pool), worth taking up if this is your first time doing it. The water centre is alongside a kids club on the Riu Atoll side. Additionally, the Riu Palace Maldivas has a wellness centre, 24-hour fitness centre and optional beauty treatments and spa facilities.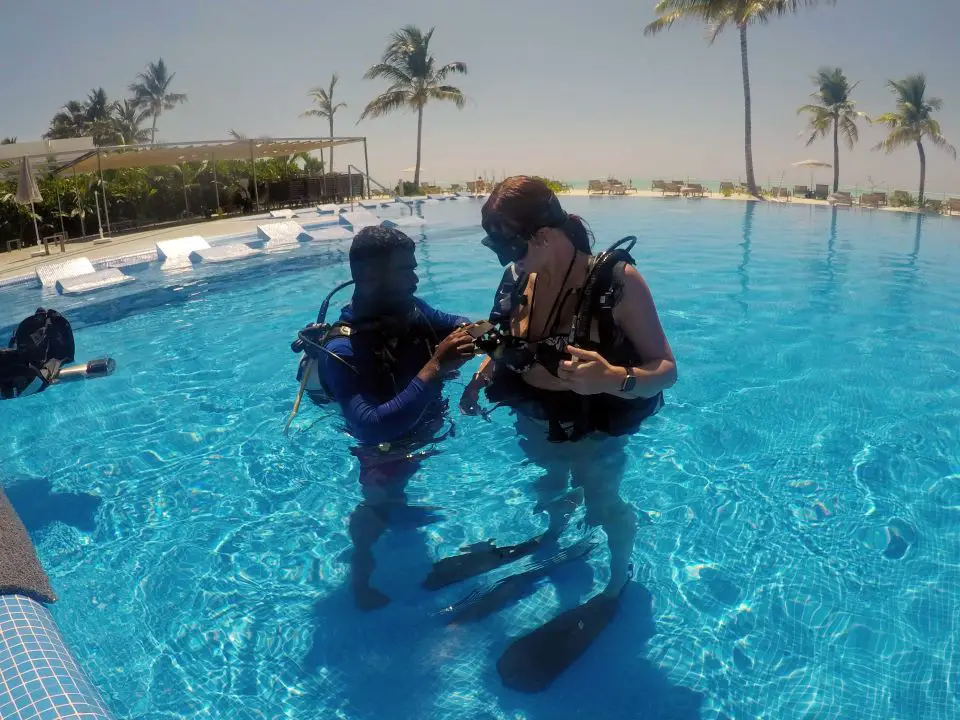 Excursions and tours
All Maldives resorts offer various excursions and tours, such as jet skiing, scuba diving, boat trips to uninhabited islands, snorkelling in the deep sea, and dolphin-watching tours. Some tours are shared with other travellers; however, you can also book private tours. 
However, you only have to swim a few meters out and find coral reefs bustling with colourful fish. The best place to snorkel at the Riu hotel & resort is at the far end of Riu Atoll. The reef here is amazing, and you will spot reef sharks, rays and even turtles if you're lucky enough.
In the blue waters of the deep sea, there are even more fish species. However, it is sad to see coral reefs so severely eroded, and it is a reminder to use safe ocean lotions to minimise the effect on the Indian Ocean sea life.
Related Read: Ultimate Maldives Packing List | Essential Items for your holiday
---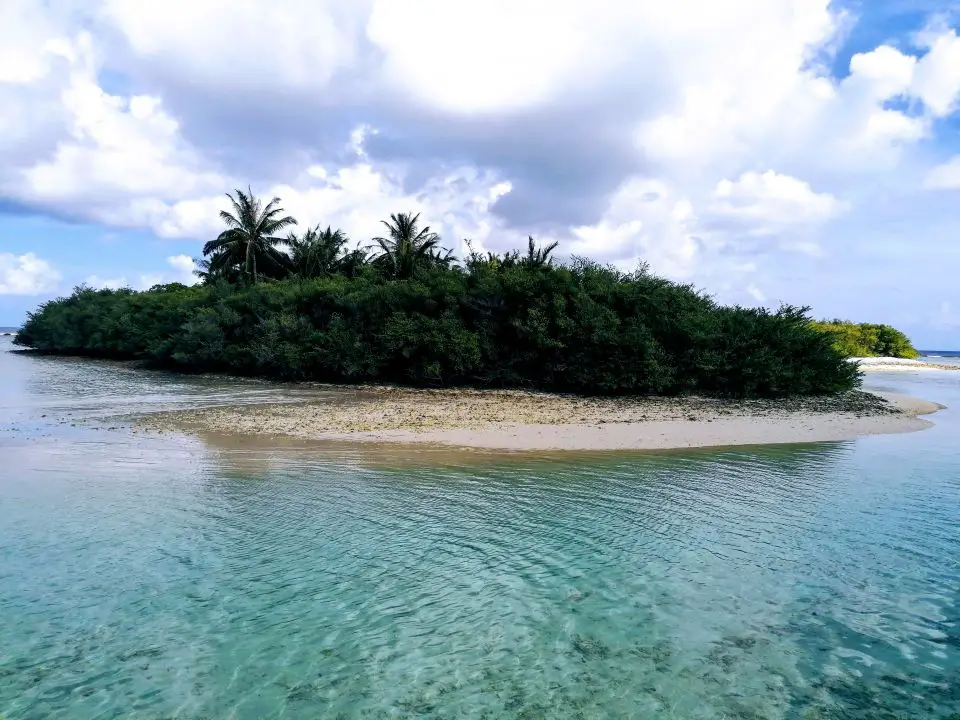 ---
Booking the Maldives for a special occasion?
The Maldives have many packages for honeymooners, engagements, and weddings. I often saw romantic private tables on the Riu Palace beach, amongst the palm trees, with soft lighting illuminating the beautifully decorated flowers. While you can book these things, the location itself is romantic. So, you don't have to do anything elaborate for the Maldives to feel special.
Related read:
---
---
Booking your Riu Palace Holiday
The best time to visit the Maldives Riu resorts is between December and March, as this is the dry season, but this is also the peak and most expensive. 
There are several different ways you can visit the Riu Palace Hotel. 
First, you can book a package holiday where everything is handled for you. I booked through Tui – if booking the Riu Palace during summer, use code SUMMER to get up to £100 off. However, as an accredited Travel Agent, I can book your trip directly and be a friendly point of contact throughout your holiday and be there for you if anything goes wrong.
Alternatively, you can book everything separately; however, this hotel involves many modes of transport, and it is doubtful you will save money this way. If you choose this option, check out the best travel resources online for valuable links and recommendations to help you plan your travel.
---
Riu Palace Maldives Reviews in Summary
Nowhere is quite as beautiful and serene as the Maldives. It feels like you've escaped into a completely different world.
If you're debating the Riu Atoll vs the Riu Palace, this boils down to cost versus your requirements. If you would like to roam the island freely and have the choice of all bars and restaurants, then the Riu Palace is the obvious choice. However, it is further away from the kids club and evening entertainment.
Overall, the Riu Palace Hotel reviews are positive, and I recommend this resort for your honeymoon or vacation. Take a look at the links below to see the latest deals:
---
Have you been to the Maldives? I'd love to know if my Riu Palace reviews your trip. Let me know in the comments. If you're looking for more help with your trip, check out my Maldives Travel Guide for more comprehensive information about taking a vacation in the Maldives. 
---
Want an amazing holiday with dedicated support and customer service throughout?
Do you like to travel but hate spending hours online researching holidays and trying to find the best deals? Here's why I come in. VeggTravel is an independent travel agent that does the hard work for you. I do the research, compare the prices and build the itinerary for your dream holiday, cruise, city break, or activity. Plus, my agent connections often mean exclusive offers on hotels and flights that you can't find anywhere else.
Rest assured that any holiday booked through me will give you the relevant ABTA, CILA or ATOL protection you need. Not only that, but I'll provide you with bespoke service tailored to your needs, and I'll be there every step of the way, ensuring that things go smoothly or being your single point of contact if things don't.
Ready to take your vacation to the next level? I don't charge a fee, so if you're based in the UK, drop me a mail and see what I can do for you.

---
---
Pin This Review of the Maldives Palace Resort For Later
Sharing is caring. Please share this post on social media and if you have any feedback or questions, leave me a comment below.