Best Vegetarian Dishes in the World
Are you a vegetarian looking for inspiration for future home cooking? Perhaps you're visiting one of these fantastic travel destinations and want to know what dishes to try. You might even be considering becoming a veggie and don't know what amazing vegetarian recipes are available. Well, you've come to the right place!
Prepare to discover the best vegetarian dishes in the world. Where to find them and how they're traditionally made and eaten so you can look for authenticity when you're traveling.
I hope you've eaten already because I'm going to tantalize your taste buds.
Best Vegetarian Dishes in the World | Quick Reference Guide
This post contains affiliate links which means I may earn a small commission if you choose to buy anything from them. This is at no extra cost to you and In doing so you help to keep this site running, so thank you in advance.
Asian Vegetarian Dishes
Asian Vegetarian Dishes There is no doubt about it. Asia is world-class when it comes to vegetarian cuisine. Many authentic local meals are veggie by nature, so it is no surprise many Asian countries have made this list. I think it is because a lot of regions of the area prioritise a plant-based diet and its benefits. I don't think anyone can say that Asia doesn't have the best vegetarian dishes in the world.
1) Sri Lanka | Hoppers
Sri Lankan food is packed with spices, flavours, and lots of fresh fruits and vegetables. Beans, eggplant, potato, pumpkin, coconut, and kale are ubiquitous making Sri Lanka a very vegetarian-friendly nation.
Hoppers, locally known as appa, are a national favourite. Made from rice batter and coconut milk, these crisp, bowl-shaped Sri Lankan pancakes are best served with Pol Sambol, a spicy relish made from freshly grated coconut and red chillies. It is not unusual to have hoppers with a coconut-flavoured potato curry which also goes well with string hoppers, a variety of thin rice noodles.
Vegetarians will also relish Sri Lankan Dhal or Parippu Curry made with red lentils, onions, curry leaves, and coconut milk. Usually paired with the Ceylon Paratha, a soft, flaky flatbread, the duo makes the perfect Sri Lankan breakfast.
If you are looking for a vegetarian lunch spread, then you are in for a treat. Walk into a traditional Sri Lankan restaurant known as Gami Gedara and ask for rice and curry. You will be treated to a sumptuous plate of rice, dhal, sauteed vegetables (beans, pumpkin, mushroom – whatever is in season), a hearty kale and coconut salad, pol sambol, and poppadoms. 
Recommended by Soumya from Stories by Soumya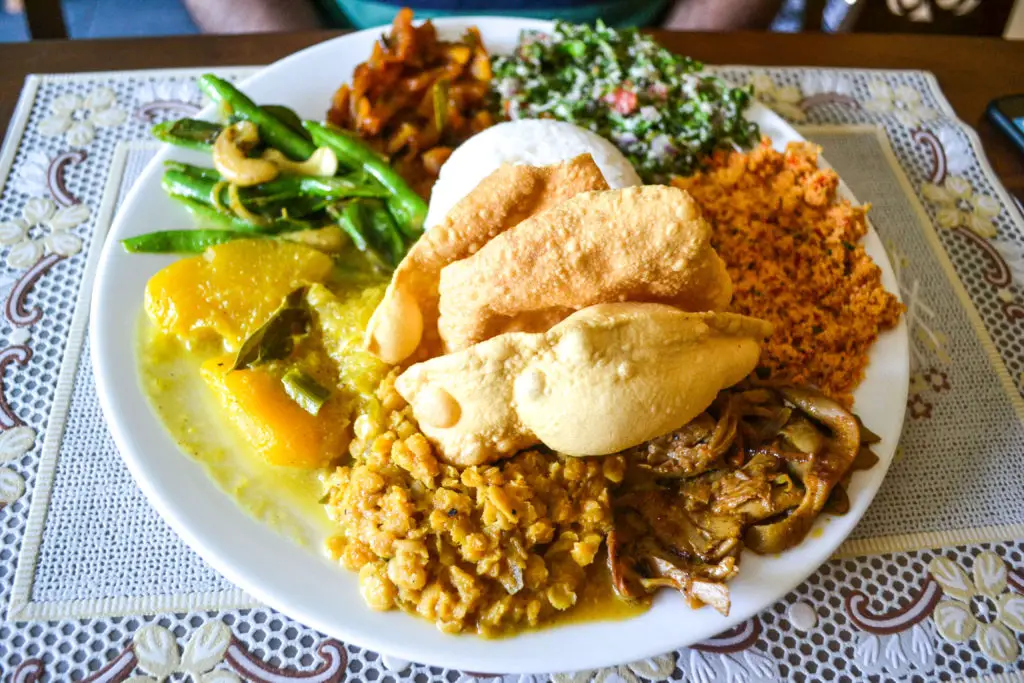 2) Malaysia | Pan Mee
Malaysia isn't necessarily known for its vegetarian food. However, if you know what to order, you can find several delicious dishes to try Especially the capital Kuala Lumpur has a fantastic selection of local vegetarian foods.
Pan Mee is a great example of a vegetarian dish you'll find all around Malaysia. It's a Malaysian adaptation of a Chinese noodle dish that usually involves a broth with different types of noodles, greens, and mushrooms. The plate also exists with meats and seafood but is more commonly found without them.
You can also try "fried carrot cake" (Chai tow kway), which is not a cake but a stir fry made with white radish, loosely translated as carrot cake. It's delicious and probably unlike anything you've had before. The ingredients can involve vegetables, chili sauce, and even noodles. Keep an eye out for the exact ingredients, though, as some types of fried carrot cake are made with fish sauce or other seafood ingredients.
Recommended by Victoria Heinz from Guide Your Travel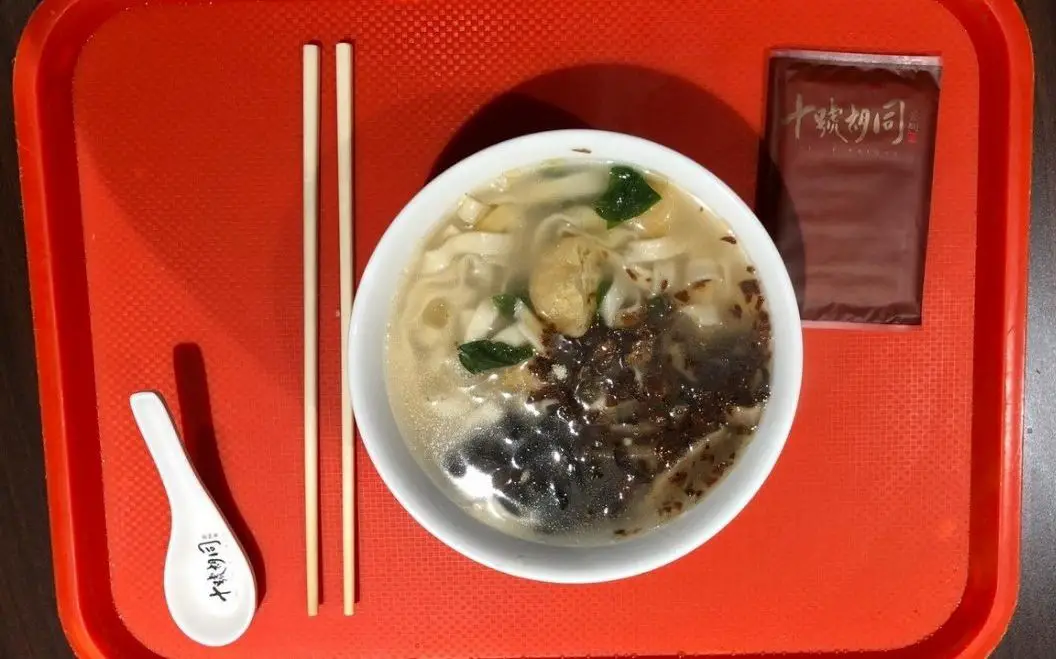 3) Indonesia | Mie Goreng
Mie Goreng is one of the best-known vegetarian dishes in Indonesia. A plate piled high with glossy noodles fried in garlic, light and dark soy sauce, and sesame oil. Mixed with the noodles are a selection of vegetables, sliced carrot, cabbage, spring onions, and maybe a fried egg on top.
Such a simple dish but served in most warungs and restaurants in Indonesia.
Indonesia is heaven for vegetarians. There is an excellent choice of menus. Try Gado-Gado, boiled vegetables with peanut sauce, cap cay sayur (pronounced chap chay sayur), a dish of chopped stir-fried vegetables or nasi goreng, a rice version of mei goreng.
Tofu and tempeh are great ways to add protein to your meal. Fried tofu is added to any dish or as part of nasi campur, rice with a selection of different dishes around it. Tempe is compressed soybeans formed into a bar. It is then cut and fried in strips and served either plain or in chili sambal.
Wherever you go in Indonesia, several meals could make the best vegetarian dishes in the world.
Recommended by Larch from The Silver Nomad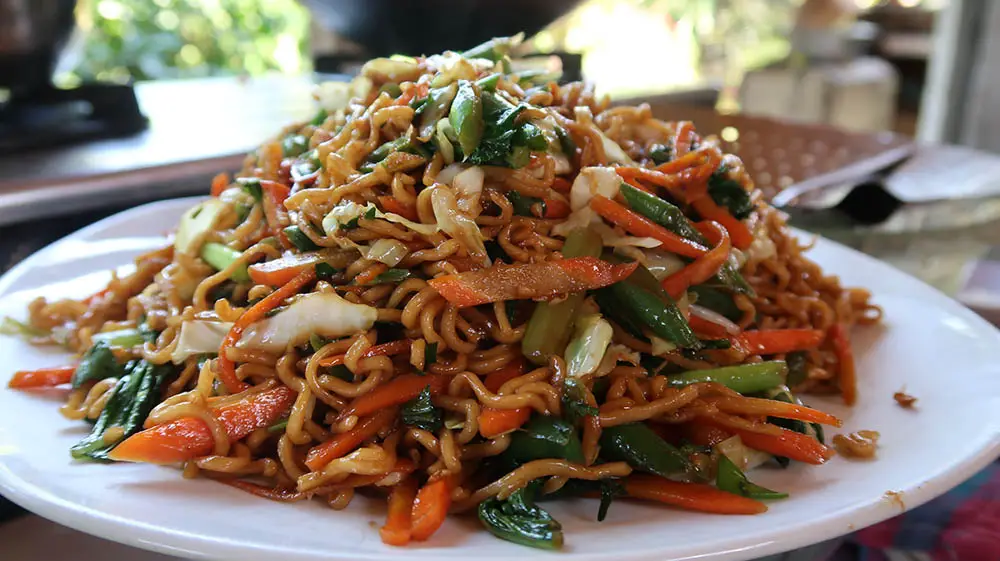 4) Thailand | Som Tam
Thailand is well known for its fiery salads. However, salads such as 'Laab,' the staple of Isaan, and 'yum,' use minced pork or variations. But, by far, the most popular salad in Thailand is som tam, an unripe papaya salad, which is somewhat synonymous with Thai cuisine and Thai street food.
It is also a reasonably simple salad to throw together, starting in a mortar and pestle with garlic and chilies and peanuts pounded together with tomato and lots of fresh green papaya. Other flavorings include fish sauce, lime or tamarind juice, and dry shrimp, although lots of different ingredients can be added, including cuts of carrots or fresh noodles. Pair it with sticky rice.
There are always vegan versions by swapping over the fish sauce with soy sauce and leaving out the dry shrimp. Unfortunately, at least traditionally, most Thai cuisine is not vegetarian or vegan friendly. However, many dishes can be changed and adapted by asking for 'kin jay,' which will substitute meat and animal products with vegan-friendly alternatives. So, it's not hard to find Thailand's favorite curries, soups, and noodle dishes, e.g. 'Tofu Pad Thai' made to suit both vegetarian and vegan diets.
Recommended by Allan from Live Less Ordinary
Best vegetarian food in Europe
The diversity of Europe means that there are many veggie friendly countries. In fact, many of the vegetarian meals in Europe are now common place throughout the world. That being said, some European countries such as the UK, don't have a lot of vegetarian main meals that didn't originate elsewhere. The UK does however have delicious hot cross buns and other tasty sweet dishes.
Below you find the best vegetarian food in Europe and even the best vegetarian dishes in the world.
5) Georgia | Adjaruli
If you're looking for the perfect destination to visit where you can experience the best vegetarian cuisine, then look no further than Georgia. Because of the nation's Orthodox faith, there are countless vegetarian options for every major dish to accommodate the number of fasting dates on the calendar (it encompasses nearly half of the entire year!).
Georgia is most well-known for Adjaruli and Imeruli khachapuri, variations of cheese-filled bread that is vegetarian in and of itself. However, there are many other veggie dishes in Georgia, ensuring that vegetarians will not go hungry in this beautiful country.
Most meat dishes will have a mushroom option on restaurant menus as well, such as mushroom khinkali (vegetarian Georgian soup dumplings), mushroom chashushuli (a spicy vegetarian stew), and mushroom ojakhuri (an assembly of roasted potatoes, mushrooms, and onions).
Other vegetarian dishes that are common on Georgian tables include:
Lobio (stewed beans with spices).
Badrijani nigvzit (eggplant rolls with walnut paste).
Ajapsandali (an eggplant stew).
Pkhali (a vegetable and walnut spread).
Recommended by Maggie Turansky from No Frills Kitchen
6) Croatia | Kolač od jabuka
The most heavenly sweet vegetarian dish in Croatia is the typical Croatian apple pie (Kolač od jabuka ). Croatia is probably not the most vegetarian-friendly country, but this cake is a must-try on any trip!
Whether for breakfast, hot or cold, with afternoon coffee or as a dessert, this fabulous apple pie is perfect for any time of day! Made quite simply, the sweet and tart apple and cinnamon filling combined with the sweet sugar layer on top tastes particularly good. A real treat for the palate! For me, one of the best apple pies globally and a good choice for vegetarians.
Croatian cuisine is very meat-heavy, so that you won't find many typical vegetarian dishes. However, you can switch to side dishes when you travel. For example, mixed grilled vegetables and potatoes with chard are delicious. You can also find vegetarian restaurants in larger holiday resorts.
Recommended by Martina & Jürgen from PlacesofJuma
7) Poland | Golabki
Polish golabki, which can literally be translated as "pigeons", are one of the most popular foods in Poland. The filling is made of rice and buckwheat groats (vegan golabki) or ground pork (meat golabki), wrapped in the cabbage leaf, then baked in the oven or cooked on the stove. Find golabki in any Polish restaurant. They are usually served with sauces: mushroom or tomato.
Although Poles love meat, there are many plant-based, vegan and vegetarian dishes that you can find in Poland. My favorites are vegan pierogi (dumplings with different fillings) and Polish lecso (veggie stew). The others worth recommending are:
Nalesniki (Polish crepes).
Krokiety (Polish fried cabbage crepes).
Kapusta z grochem (Polish cabbage with split peas).
Placki ziemniaczane (Polish hashbrowns).
Easy to notice, Poles do love cabbage! Almost every traditional Polish dish has its vegetarian counterpart. There are many vegan restaurants in Poland, so if you don't eat any products of animal origin, you won't get hungry while visiting Poland!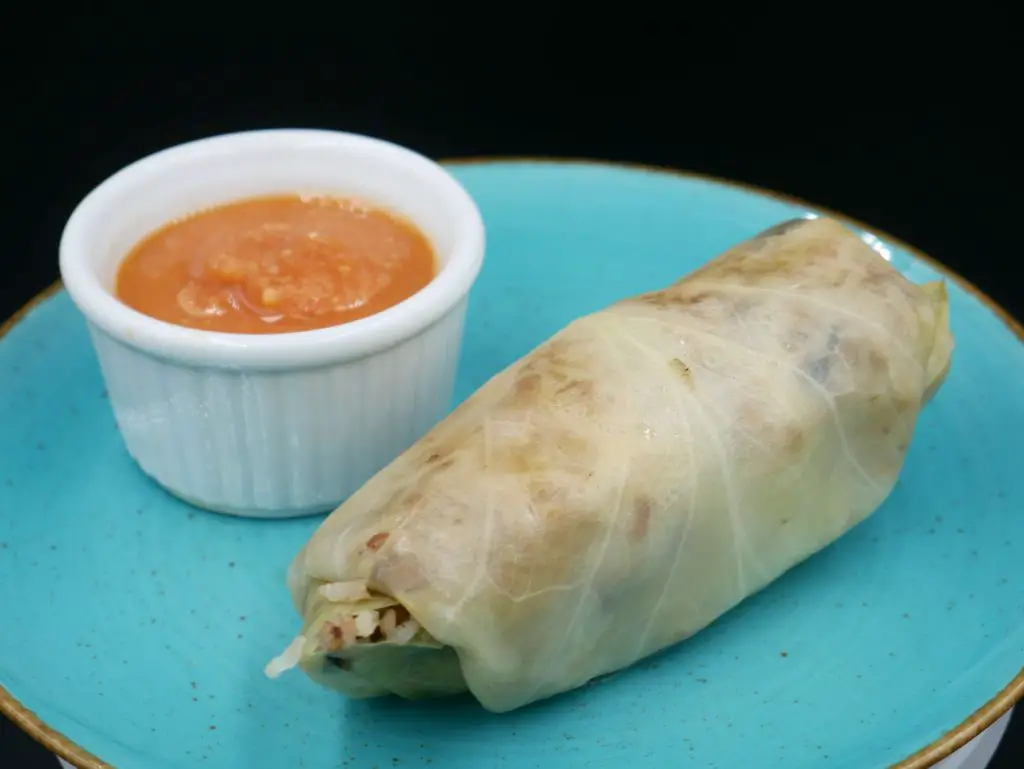 8) Bosnia | Pita Sirnica
Bosnian Cheese Pie is one of the most popular pastries spread from Bosnia to other parts of Europe. You can make it yourself or buy it as street food by piece or by kilograms in Sarajevo, the Bosnian capital.
This meal is simple to prepare with just a few essential ingredients. It is made with flaky, buttery layers of filo dough stuffed with a mix of cottage cheese, eggs, and sour cream.
[the_ad id="49695″]
Steps: Prep the pastry – fillo – jufka (you can buy it or make it yourself), make the filling (mix cheese, sour cream, and eggs), preheat the oven, assemble (you can roll stuffing in dough or exchange layers of pastry and stuffing), bake for 45 minutes at 200 C. Serve with a glass of yogurt.
Besides this cheese option pies, other vegetarian pies are made with potatoes (krompiruša) or spinach (zeljanica). So, after you master this one, you should try other options as well.
Recommended by Džangir Kolar from Dr Jam Travels
9) Spain | Tortilla Española 
[the_ad id="49688″]
Although Spain is widely known for its cured pork (Jamón ibérico), vegetarian diners will find plenty to devour in this lively country.
Enjoy a napolitana de chocolate (chocolate-filled pastry) or pa amb tomàquet (Catalonian toast with tomato, garlic, and olive oil) with fresh-squeezed orange juice for breakfast. Midday, a sandwich, mixed salad, or slice of empanada will do. (Note: The latter two contain tuna, which you'll often find in "vegetarian" meals in Spain.) At night, choose from a variety of shareable small plates or bites. Certainly, vegetarians will love roasted padrón peppers, olives, and cold soups! Finally, finish your meal with a slice of Galician cheese with quince paste for dessert in the northwest.
Spain is very diverse, with many regions boasting specialty cuisines. However, the tortilla española is a staple of Spanish life. Not your typical omelet, tortilla is rich and creamy. Amazingly, it's made from just four ingredients: eggs, potatoes, onions, and perfectly mild Spanish olive oil.
You can find this served at room temperature with a piece of baguette-like bread in just about any bar or restaurant at any time of day. So don't miss out on this delectable yet straightforward treat ideal for casual dining and sit-down restaurants alike.
Recommended by Tristina Oppliger from Love at First Adventure
10) Italy | Cacio i pepe
One of the best vegetarian dishes is classic pasta, and where better to have some than in Italy! There are countless ways to enjoy pasta in Italy- from drizzled with local olive oil and pepper or a traditional pasta Pomodoro (tomato) or the Ancient Roman recipe of cacio i Pepe (cheese and pepper). Traditional homemade pasta, found throughout Italy, consists of flour, olive oil, eggs, and sea salt.
The best way to learn about traditional Italian pasta would be to take a cooking class. There are countless classes throughout the cities and small towns of Italy. You can learn about how fresh the ingredients are and why each is included in the dish.
Suppose you become tired of pasta- no worries! Instead, indulge yourself in hand-tossed pizza, eggplant rollatini, or a Caprese salad. There are plenty of vegetarian options throughout Italy.
Recommended by Pamela from The Directionally Challenged Traveller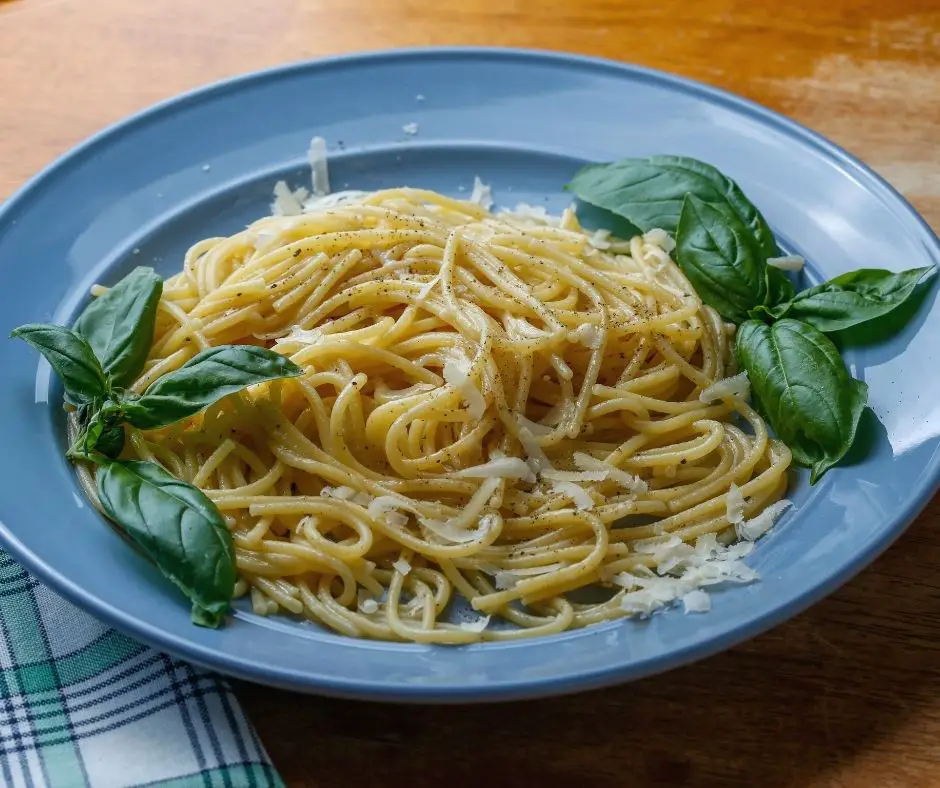 Read More: Looking for authentic Italian food, check out my guides on Naples, the Amalfi Coast, Sorrento or Capri Island that will inspire your next trip.
[the_ad id="49683″]
11) France | Ratatouille
Ratatouille is a traditional French recipe from Provence in the south of the country. Although France is known for lots of butter, cream, and cheese, this classic ratatouille recipe
is vegan and gluten-free. Provence is in the Mediterranean, so olive oil is more common than butter to cook with, and there are lots of vegetables used.
While this recipe is originally from Nice, it is so popular you'll see it throughout France. It is traditionally a vegan recipe but is perfect for everyone as it uses local, seasonal vegetables and bursts with flavor.
The vegetables are sliced and placed circularly, then topped with tomato sauce. It is one of the prettiest dishes on a table.
And it is also so versatile as this vegetable stew is excellent on its own or topping crusty bread, rice or noodles. If you eat eggs, it is also pretty tasty with a poached egg on top.
Recommended by Ayngelina Brogan from Bacon is Magic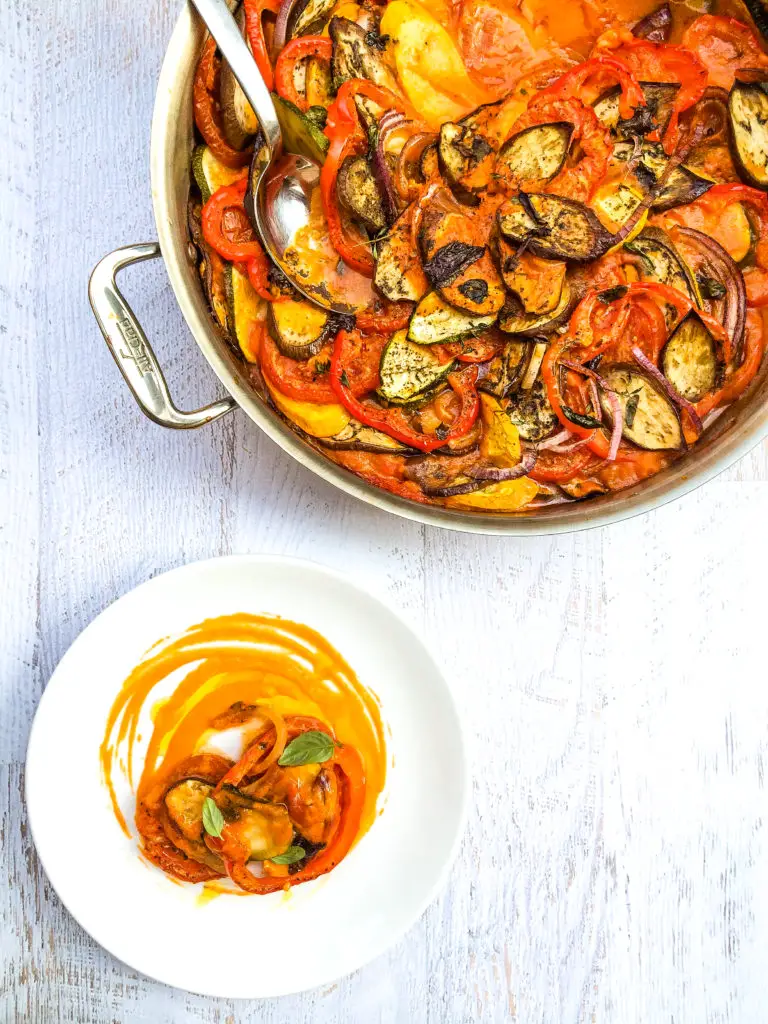 Middle East & Africa Vegetarian Dishes
[the_ad id="49689″]
There are several tasty Middle Eastern Vegetarian Dishes and vegetarian foods from Russia & Africa. When you're looking for your following recipe, African vegetarian dishes aren't the first thing that typically springs to mind. However, many of these are eaten in different countries, making them some of the most famous vegetarian dishes.
12) Ukraine | Varenyky
Vegetarians in Ukraine might miss out on some of the country's most famous food (the garlicky, buttery, crusted Chicken Kyiv is off the table). However, there are still plenty of local dishes to try. At the top of the list are varenyky, Ukrainian dumplings. These doughy little half-moons come in many varieties, and an excellent way to get people arguing is to ask them which is the best! Savory varenyky come stuffed with potato, cheese, cabbage, and mushrooms (as well as minced meat and sometimes sausage, so check before you order).
There are also fruit-filled varenyky, with cherry being a must-try. Unfortunately, they're usually served with smetana (sour cream), no matter how they're filled. Ukrainian traditional food relies heavily on potatoes and vegetables, so while you're traveling in Ukraine you also need to try deruny (potato pancakes), banosh (corn grits), and vegetarian borshch (beetroot soup).
You can easily find varenyky and other traditional dishes in any Ukrainian restaurant, from the cafeteria-style chain Puzata Hata or casual retro cafe Katyusha to the upscale modern Ukrainian restaurants in Ky Odesa and Lviv. This makes this Ukrainian meal one of the best vegetarian dishes in the world.
Recommended by Amy Butler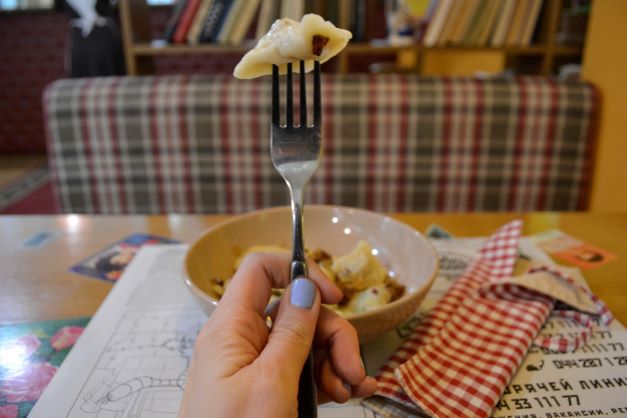 13) Pakistan | Halwa Puri
When most people think of Pakistani cuisine, they think of Chicken Biryani, Butter Chicken, or even Beef Kababs. What many do not know, however, is that there is an incredibly diverse array of vegetarian dishes within the culture as well. Some of the most beloved dishes of the country are pure vegetable dishes.
[the_ad id="49680″]
One of the countries' most beloved and traditional breakfast menus is Halwa Puri. The Halwa (sweet semolina pudding) is eaten with hot fried flatbreads (puri) and is served with a Chickpea curry and potato curry (aloo Bhujia). Every item on this menu is free of meat, and we have not met ONE person who does not love this decadent breakfast. The potatoes are spicy and full of flavor, and the chickpea curry has a tang and kick, both of which help offset the sweetness of the Halwa.
Besides this decadent breakfast, it is not uncommon to find a table laden with dishes when invited into a Pakistani home for a meal. Tradition and entertaining etiquette demand that there will always be at LEAST one vegetable-centric curry dish.
You will always find an array of lentil curries (daals) on every menu to enjoy over hot rice as well as vegetable-based curries. Of course, the locals love meat, but they also really enjoy a well-made vegetable curry usually made with fresh, locally grown produce and cooked in ghee (clarified butter). So don't be surprised if you become addicted to Pakistani-style vegetables.
Recommended by Sophia Bawany and Aamir Ghaffar from Fly, Eat & Repeat
14) Turkey | Spinach and Cheese Borek
One of the tastiest places to eat vegetarian is in the country of Turkey. Our absolute favourite dish is a spinach and cheese borek.
Made with thin pastry and alternately layering spinach than cheese, then spinach and cheese again, the dish is tart and creamy. You can buy borek in some restaurants, but you're more likely to find a bakery that sells it. Many Turks will eat it for breakfast.
The best place to look on any menu to find more vegetarian food is on the meze part of the menu. Many mezze, or appetizers, don't involve meat. Some of our favorites are gozleme, pide, cacik (yogurt sauce), fried peppers with yogurt and tomato sauce, but there are plenty of options.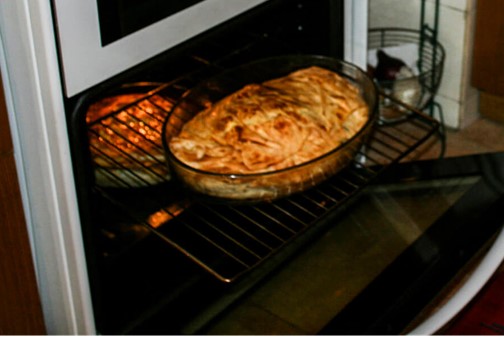 15) Iran | Khorest Bademjan
Khorest Bademjan or spiced eggplant stew is one of the most delicious vegetarian dishes in Persian cuisine.
While eggplant and tomatoes are the key ingredients, families have their twist to this classic recipe, especially if it comes to spices. Many Iranians also add dried Persian limes to give it a tangy taste and eat the stew with saffron rice.
Persian cuisine is not very vegetarian-friendly. Most stews in Iran include meat, and if you eat Khorest bademjan in a restaurant, it could have lamb in it. Luckily, Persian stews are so rich in flavor that it is easy to make vegetarian by simply leaving the meat out. Make sure you request a vegetarian version before ordering.
Vegetarians will also find delight in the many side dishes. Fresh herbs are plentiful in Iran and find their way in yogurt dips, soups like Asht resteh, or omelets like Kuku sabzi. Eggplant is also the key ingredient in other vegetarian dishes like mirza gashemi. At last, lentils and beans are also common ingredients in vegetarian soups and rice dishes.
By Ellis from Backpack Adventures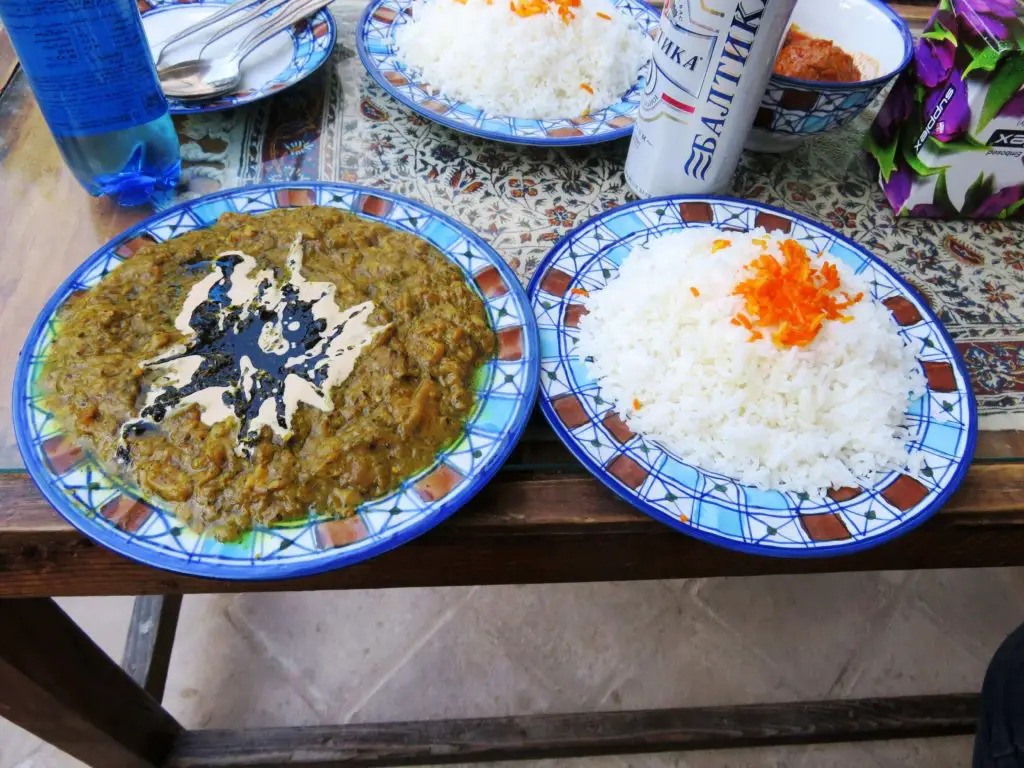 16) Egypt | Koshary
Traditional Egyptian food is primarily vegetarian. The majority of Egyptian meals include classic veg-friendly Middle Eastern dishes found across the Middle East like falafel, hummus, baba ganoush, mutabbal, bamia (okra), and marshy. While arguably falafel originates from Egypt, one dish stands out among vegetarian dishes in Egypt – Koshary
[the_ad id="11609″]
Delicious Koshary is the national dish of Egypt. Koshary (also spelled Kushary, Koshari, Kushari) is a vegetarian dish and a vegan dish. Highly addictive Koshary is a simple vegan dish of healthy carbs: rice, lentils, chickpeas, and macaroni. The plate is covered with fried onions and iconic Baharat spice mix sauce (black pepper, cumin, coriander, cardamom, cloves, nutmeg, cinnamon, and paprika). Flavourful Koshary can be additionally dressed with spicy chili sauce.
Koshary is a classic working-class staple, eaten for breakfast, lunch, and dinner in Egypt. As a result, Koshary is the most popular dish in Egypt. It is found in every corner of Egypt, in every Egyptian home, and every Egyptian restaurant. Moreover, Koshary is also a popular street food in Egypt, sold by street vendors.
Therefore, there's no trip to Egypt without tasting delicious Koshary! So, when in Egypt, be sure to get your bowl of tasty Koshary!
Recommended by Milijana Gabrić of World Travel Connector 
17) Tanzania | Chipsi Mayai
Chipsi mayai is one of the most traditional Tanzanian dishes
that you can have when you visit the country. It's a delicious dish that you will find pretty much everywhere. It is a combination between an omelet and French fries, and it is eaten with loads of ketchup on top.
Usually, chips mayai is served alongside a salad, typically kachumbari. This salad is very refreshing, made with onions and tomatoes. It usually is done free of charge, with pretty much every dish you order.
Tanzania is a great country to travel to if you are vegetarian. Some of the other popular vegetarian dishes include ugali, which is a staple of Tanzanian cuisine. Ugali is made from maize flour and water, and it is served as a side for everything. To eat, you will break a bit of ugali with your hands and scoop out the food using it. Choko nazi is a lentils stew made with coconut milk, great as a lunch. Another great dish to try is the Maharage ya nazi, coconut milk, and beans stew.
Recommended by Joanna from the World in my Pocket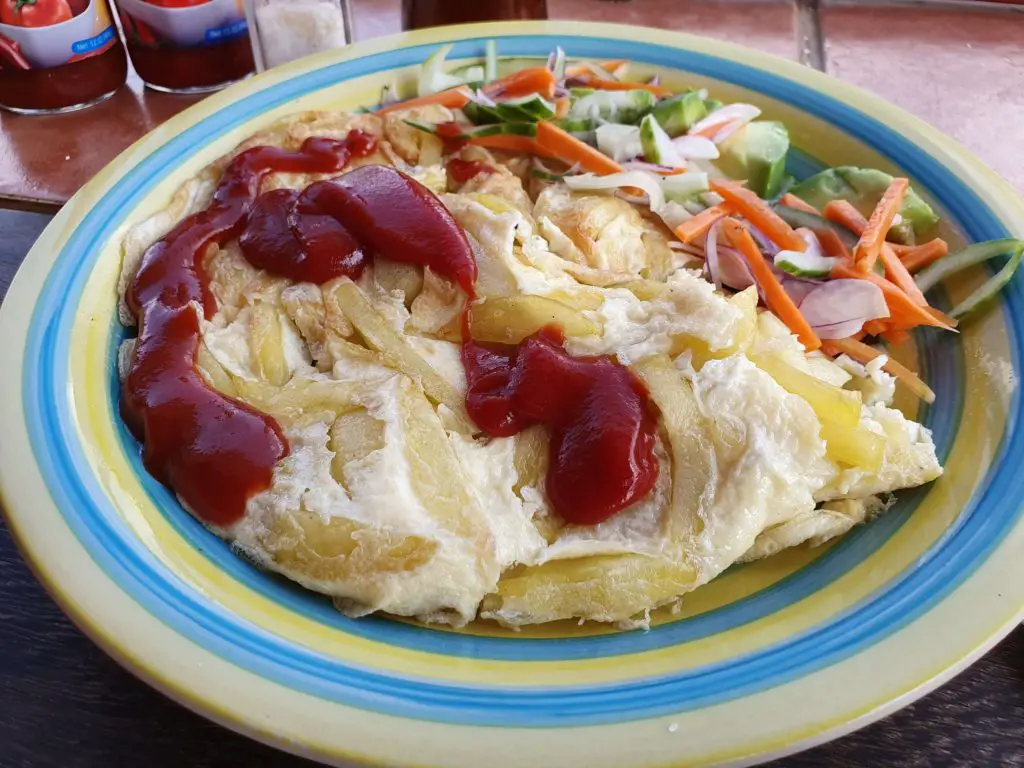 Tanzania is one of the best places for safari in Africa so this is a dish you can try when you're there.
South America Vegetarian Food
[the_ad id="49682″]
18) Colombia | Arepa
When it can be a challenge to find a good quality vegetarian dish outside most food courts and shopping malls in Colombia. However, one food you will always find from day until night is Arepa with Cheese or Arepa with eggs and cheese.
As far as traditional Colombian food dishes go anything served with an Arepa can be served as a vegetarian option. Aside from the cultural aspect, one reason why Arepas are so popular is because of their versatility.
Other vegetarian dishes include a wide variety of soups often called 'cremas' that you'll find in most restaurants which are also served with an Arepa. Aside from Arepas and soups, look out for Vegetarian empanadas filled with potato, which can be often be found sold outside churches.
All in all, during any trip to Colombia, all you have to do is lookout for a place that serves Arepas, and you usually have an option to add whatever you like on top.
Recommended by Daniel James from Layer Culture
19) Mexico | Chilaquiles
Though known as a meat-eating country, there are plenty of options for vegetarian food in Mexico. One of the must-try dishes is chilaquiles (pronounced chill-uh-kill-es) which you'll find all over the country, especially in Central Mexico and Mexico City.
Chilaquiles is a popular breakfast and brunch favorite, made with a plate of tortilla chips smothered in red or green salsa, sunny-side-up eggs, and beans. It is often topped with crema (sour cream), shredded cheese, onion, and cilantro, though you can omit any of that.
In South-Central Mexico states like Chiapas and Oaxaca, known for their mole (pronounced mole-lay), you'll often find chilaquiles topped with mole instead of salsa. If you're in one of these states, you must try the delicious local mole on chilaquiles.
Besides chilaquiles, go for molletes (toast topped with beans and cheese), chili Relleno (poblano pepper stuffed with cheese), and esquites (corn with crema and cheese). You also have the option to order most enchiladas, tacos, burritos, and flautas meat-free.
To sample things you'll probably only find in Mexico, be on the lookout for rajas (roasted poblano peppers), huitlacoche ("corn mushroom"), and nopal (cactus). For times when you're in doubt, there's always guacamole, although, on its own, it won't make the best vegetarian dishes in the world!
Recommended by Shelley Marmor from Travel Mexico Solo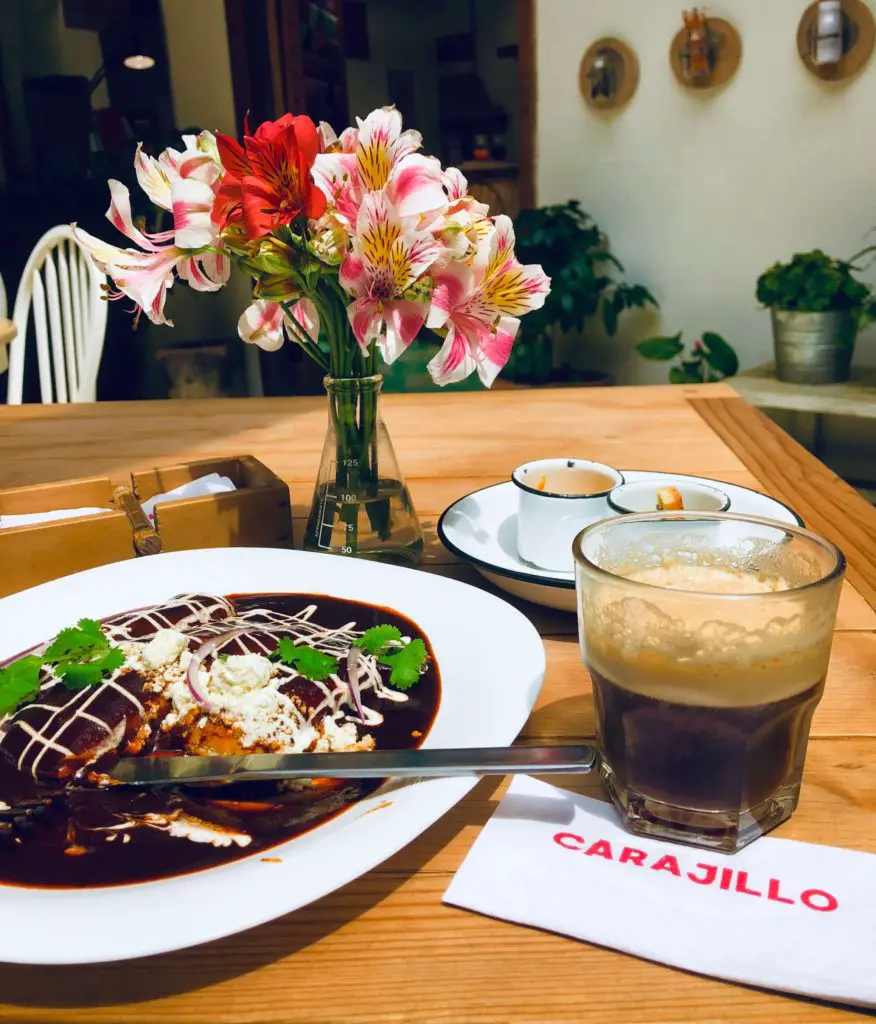 20) Panama | Bollo con queso
The Bollo con queso (or Bollo with cheese in English) is a typical Panamanian food that is commonly eaten for breakfast in Panama. It is of Native American origin and can be traced back to 1518 in letters from the European Spanish in Panama who reported that the indigenous Native Americans were eating a dish that seemed like white bread.
The bollo consists entirely of a solid corn-based mass. Its consistency can be described as a cake, solid and soft on the inside. The bollo is best enjoyed with a few slices of melted cheese on top, and it is a simple yet amazingly delicious Panamanian and vegetarian-friendly breakfast.
Recommended by The Culture Portrait
Pin the Best Vegetarian Dishes in the World for Later