Amalfi Coast Road Trip | Ultimate Itinerary to explore South Italy
The Amalfi Coast (known as Costiera Amalfitana in Italian) is a breathtaking part of Italy, with picturesque scenery for miles. This stunning mountainous stretch of coastline is on the Gulf of Salerno on the Tyrrhenian Sea.
If you want to explore the region, the BEST way to do it is to drive. An Amalfi Coast road trip will allow you to explore Southern Italy at your own pace. This Amalfi Coast itinerary can be done in a day but extended for as many days as you like. The only thing you can do is consider which place you like the sound of the most!
---
Amalfi Coast Road Trip Itinerary Contents
This post contains affiliate links which means I may earn a small commission if you choose to buy anything from them. This is at no extra cost to you and In doing so you help to keep this site running, so thank you in advance.
Driving the Amalfi Coast
The biggest decision on your Amalfi Coast Road Trip is what type of vehicle to take. While many different transport options are available, why don't you drive the Amalfi Coast in the true Italian style by a traditional Vespa moped? You can book these in advance on Bike Booking so that you're ready to go as soon as you arrive at your base.
Many people worry about whether driving the Amalfi Coast is safe. The truth is that Italian roads can be daunting, particularly for tourists. Tackling the winding mountain roads on a Vespa moped might not be for everyone. But, for those who dare, you're in for a thrilling adventure. If a moped is your choice of travel, take a look at these motorbiker gifts to prepare yourself for the journey.
If you'd prefer to complete the Amalfi Coast road trip by car, you will still see the beautiful coast views, beaches and towns. You can hire a car in advance and collect it from the airport, helping save transfer costs. Hiring a car is particularly helpful if you're flying into Naples, which would otherwise involve several trains to start your journey. 
Whatever your mode of transport, if you're a confident driver and you take it easy, you've got nothing to worry about.
Amalfi Coast Parking
Parking on the Amalfi Coast can be challenging. The issue with completing the Amalfi drive by car rather than moped is that an available parking lot is much harder to find. Most roads along this route's coastal towns are narrow and very busy. Public parking is widely available, just not often very empty! Moped riders will be able to find more parking bays, and the parking will be cheaper.
---
Amalfi Coast Map
Below is the Amalfi Coast map showing each stop on this route so you can plan your drive and the stops you want to take. The Amalfi Coast road trip is intended for a route to and from Sorrento in one day. However, it is easily adaptable should you want to add nights or start or end in a different Italian location.
---
---
If you're not doing the road trip just yet, save this post for later so you can navigate to the relevant parts of this Amalfi Coast itinerary below:
---
---
Sorrento to Positano | Amalfi Coast Road Trip
In just over 10 miles and about 40 minutes, you'll be in Positano, the first stop on your Amalfi Coast drive. However, It's a bit of a horror show leaving Sorrento, really grip onto the seat stuff! But, after a few miles, all you can see is the sea and the mountains. Therefore, any anxiety you might have had will fade away as you take in the glorious views.
While this route starts from Sorrento, you can easily drive from Naples to the Amalfi Coast. This journey is slightly further away, so you might consider booking a hotel in Positano.
Driving in Positano is easy, but the roads are very busy. Some beautiful sculptures within the mountain stone on the drive down are worth stopping by to enjoy. You might have to follow the road as it heads away from the coast to park in Positano. Don't wait for a 'good spot' as any parking spot will be hard to find. Perseverance is key. You will find it somewhere.
Best things to do in Positano
Positano is my favourite spot on the Amalfi Coast. The colourful Italian houses set in the mountains are what you see on postcards — mountains for miles, dotted with foliage that is alive with nature and wildlife. Positano is truly stunning.
One of the best things to do in Positano is to explore Spiaggia Grande, next to the Marina Grande port. There are many restaurants, cafes and shops along the beach front and you can choose to rent a sun lounger if you want to relax on the beach for a few hours.
Positano is known for its enchanting cascade of pastel-hued houses, and the churches are no different. The Church of Santa Maria Assunta (Chiesa di Santa Maria Assunta) has an eye-catching colourful tiled dome. If you enjoy architecture, the inside is also remarkable and if you want to see it go between 8 am to 12 pm or 4 pm to 8 pm.
---
---
Positano to Amalfi Town | Amalfi Coast Road Trip
Another 30 minutes or so drive, and you'll arrive in Amalfi Town, the place this road trip is named after. Amalfi Town is another beautiful place, but a lot busier!
Be warned, parking in Amalfi Town can be a struggle, and you might have to do a few laps to find a parking bay. In many locations in Italy, you can park for free; however, in Amalfi Town, you will need to pay an hourly rate based on the type of vehicle. For mopeds, this was 4 euros per hour. Look for the pay points to get your ticket.
---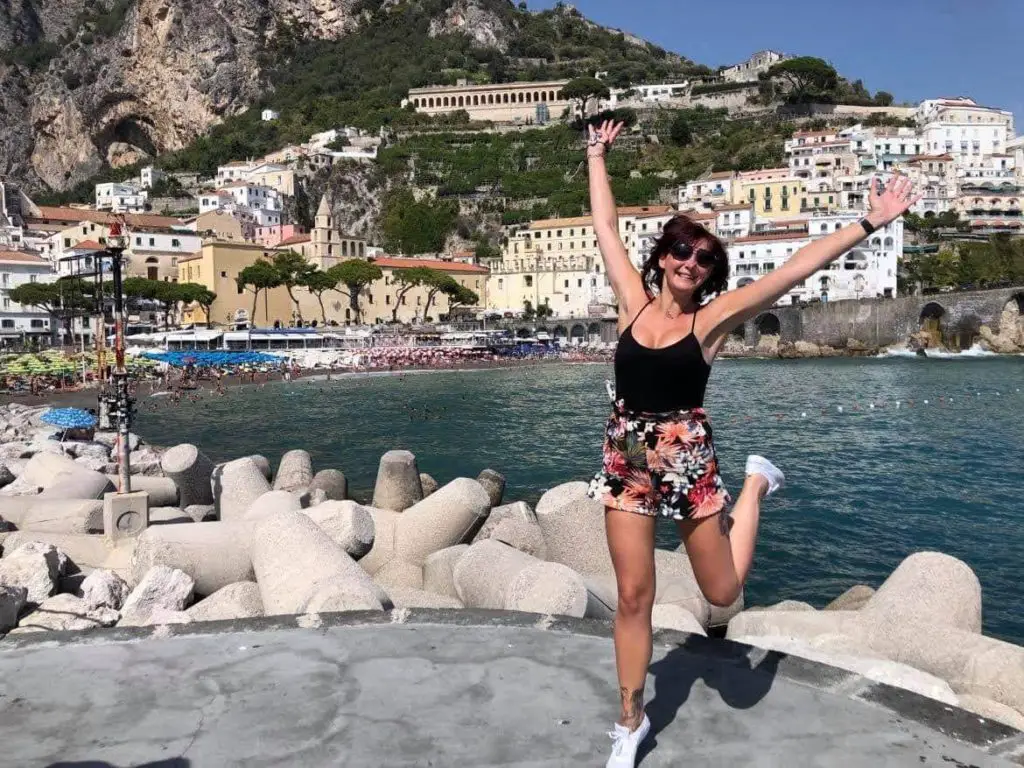 ---
Best Things to do in Amalfi Town
Amalfi Town doesn't have a public beach, but it does have beach clubs that you can pay for. However, if you're interested in beach time, look at the best beaches on the Amalfi Coast before making your choice. It's also worth researching the different beach clubs and making a reservation ahead of time, particularly in peak season.
The quaint little town of Amalfi is bustling with activity. There are a lot of shops, restaurants and monuments that can easily fill your day. One of the most significant sights in Amalfi Town is the 9th-century Amalfi Cathedral (Cattedrale di Sant'Andrea) and its beloved bell tower. The Amalfi Cathedral is set atop the staircase you climb from the coast to the centre of Amalfi Town, so you won't be able to miss it. 
A little fact about Amalfi is that it once was one of Europe's most important paper producers. If you're interested in Amalfi Town's history, then look at the Paper Museum (Museo della Carta) to see the old water-powered paper mills.
---
---
Amalfi – Ravello | Amalfi Coast Road Trip
Ravello isn't far from Amalfi Town (4 miles or so), but it is a slow drive up through the mountains. You can see the route from Amalfi Town to Ravello on the Italy coast map below. Turning left at Castiglione, the drive initially begins on main roads, but you will soon have winding, narrow roads to contend with.
Parking in Ravello is really easy. There is a long road with viewpoints through the grapes at a winery with ample parking. At first, finding where exactly to go can be confusing as you can easily get distracted by the views or things you need to head down. However, there is a pedestrian-only entryway to a gorgeous square with lush green views. I had a glass of Prosecco from a bar right called 'Al San Domingo' and enjoyed the view as it turned to dusk.
---
---
Best things to do in Ravello
Ravello was founded in the 6th century by Romans and is now known as a picturesque cliff town with stunning villas, bars and restaurants.
There's not as much to do in Ravello as elsewhere on the Amalfi Coast, but Ravello is probably my favourite. Ravello is an idyllic village that has an air of sophistication and a laid-back charm that the liveliness of the other places lacks. It even has one of the most prestigious hotels in the Mediterranean, the Villa Cimbrone.
Grab a coffee (or, in my case, a Prosecco) on one of the many outside terraces and enjoy the panoramic views. Make sure to stop by the Villa Rufolo, a building within the historic centre of the town overlooking the front of the cathedral square. The Flora and fauna of these gardens against the sweeping ocean views are not to be missed.
---
Ravello to Sorrento | Amalfi Coast Road Trip
---
So, you have two options for your return drive to Sorrento. Either do the same journey back but probably hit the traffic from everyone else doing the same thing. Or, you can take the Amalfi Coast road trip through the mountains. Due to traffic, the routes were similar in time, although the mountainous route was longer.
You could even extend this road trip to Vietri sul Mare. Another beautiful Italian town in the Salerno province of the Campania region is just a bit further East from Ravello.
---
Is Driving the Amalfi Coast Mountain Route Worth it?
On the map of the Italian coast above, we drove North. However, in hindsight, we should have stuck to the coastal route. The journey was long, mostly in the shade, and we ended up on something that looked like a motorway – driving a Vespa! My outfit wasn't made for flying down a motorway, making the journey both terrifying and memorable! This route is worth it just for the unexpected view of Mount Vesuvius as the sunset.
If you are staying along the Amalfi Coast and have a bit longer, this is also the drive you would take to Pompeii, Naples or Mount Vesuvius. Please don't make the mistake I did and end up on the motorway unless you're in a car!
---
---
If you're wondering where to base yourself for this trip, all places along the Amalfi Coast are worthy. However, if you stay in Positano or Amalfi, you can expect a bigger price tag. Sorrento is a beautiful town and a perfect base for travel across Italy. If you love the look of this region, consider a five-day Amalfi Coast itinerary to explore. 
---
Amalfi Coast Road Trip Travel Tips:
Plan your time. If you're doing this road trip in a day, figure out what you want to get out of the trip and plan accordingly. Many people will do the same thing, so you can easily lose time in traffic or looking for parking spaces.
Research the beach clubs. If you're planning to go to the beach, research the available beach clubs and the cost/facilities they provide. This knowledge will prevent surprises, and you can factor the time and cost into your itinerary.
Take it easy on the roads. The roads are windy and have a lot of traffic. Locals are used to them, and it can be a little intimating when they fly past at speed.
Look out for free parking. There is a lot of free parking throughout the Amalfi Coast, but spaces fill up quickly! 
---
Amalfi Coast Road Trip in Summary
However you choose to drive this Amalfi Coast Itinerary, most of all, have fun! If you plan an Amalfi Coast itinerary for 2 or 3 days, make sure you check out Capri, a beautiful island a short ferry away. If you're in Italy for longer, then check out the other great cities to see in Italy. 
If you're left thinking you'd like to visit the Amalfi Coast but are not sure about driving yourself, then plenty of day trips are available. The tour below has fantastic reviews and removes the hassle of finding somewhere to park and the anxiety you might get on tackling the Italian roads.
---
Want to travel stress-free with everything taken care of for you?
Do you like to travel but hate spending hours online researching holidays and trying to find the best deals? Here's why I come in. VeggTravel is an independent travel agent that does the hard work for you. I do the research, compare the prices and build the itinerary for your dream holiday, cruise, city break, or activity. Plus, my agent connections often mean exclusive offers on hotels and flights that you can't find anywhere else.
Rest assured that any holiday booked through me will give you the relevant ABTA, CILA or ATOL protection you need. Not only that, but I'll provide you with bespoke service tailored to your needs, and I'll be there every step of the way, ensuring that things go smoothly or being your single point of contact if things don't.
Ready to take your vacation to the next level? I don't charge a fee, so if you're based in the UK, drop me a mail and see what I can do for you.

---
Looking for more inspiration?
Why not subscribe to keep up to date with all of my latest blogs or connect with me on social media?
Check out my other travel posts for more travel ideas.
Pin the Amalfi Coast Road Trip Itinerary for later
Sharing is caring. Please share this post on social media and if you have any feedback or questions, leave me a comment below.