Sorrento to Capri Day trip – Your Ultimate Itinerary
The Isle of Capri is a beautiful island off the south coast of Italy that is a local favorite and a local hotspot. Many people traveling Italy opt for a Sorrento to Capri Day Trip while in the area. It's no wonder as Capri Island has stunning mountainous views, stylish white houses, great designer shops and luxurious hotels, and plenty of things to do.
If that's not all, the beaches on Capri Island have iconic rock formations that are symbolic of this beautiful island of Italy. The breathtaking views and Mediterranean weather make Capri a wonderful vacation. This ultimate guide will give you everything you need to know about how you can do a Sorrento to Capri Day Trip and make the most of your time.
Sorrento to Capri Day Trip | Table of Contents
An Overview of the Isle of Capri
Many people ask whether Capri is worth a day trip, so before it is worth knowing a little about the island before you make your decision: 
The Isle of Capri has two main parts:
Capri Town. Located in the center and East of the island, Capri Town is the place to be. The piazza is the center point where everything is happening, the shops, restaurants, and nightlife.
Anacapri. Located west of Capri Island, Anacapri is slightly further out and generally cheaper and quieter than its livelier counterpart Capri Town.
If you're only planning on a Sorrento to Capri day trip, likely, you've already got a hotel to explore the things to do in Sorrento. (If you haven't, look for somewhere within walking distance of Piazza Tasso.) However, if this Capri Itinerary entices you to stay for longer, then look at the hotel options on the map below.
Tip: Capri is generally much more expensive than staying in Sorrento or the Amalfi Coast. These costs also apply to restaurants, shops, etc., so factor these additional costs into your travel planning.
Starting your Sorrento to Capri Day Trip
So you know you want to get a Sorrento to Capri day trip but not sure what your options are? The guide below will also help you understand how much a day trip to Capri from Sorrento will cost and whether it's worth going to Capri for a day.
Capri Boat Tours
If you'd like your Sorrento to Capri day trip arranged for you, then your best option is to take an organized boat tour. There are several different guided tour providers, and you can choose a private tour of Capri or a shared excursion.
These Capri full-day boat tours typically cost between 50 and 100 euros. Each day tour provides something different, but most will include a boat tour around the Isle of Capri and some free time on the island itself. In addition, you can usually opt for a visit to the infamous blue grotto and white grotto. 
Sorrento to Capri Ferry
If you'd prefer to plan your own Capri itinerary, it might be best to take the public ferry from the Sorrento harbor. While you can book your ferry tickets in advance, it is also easy to buy them from the Sorrento ferry port before you travel.
There are several ferry ticket stands at the harbor to deal with potential crowds. Two ferry companies run the trips several times a day, usually on the hour for about 35 euros.
The Sorrento to Capri ferry only takes about 20 minutes, but it is chaotic. Sailing over to Capri will probably be straightforward; however, it can be hectic and unorganized if you choose to return at a peak time.
Tip: several ferries go to Capri island, so make sure you get your bearings when you disembark at Marina Grande as it will be crowded and stressful on the way back, and it's not obvious where you catch the ferry.
Getting around Capri Island on your Day Trip
As your doing a Sorrento to Capri day trip, you will want to make the most of your time and travel around Capri efficiently. Walking is of course possible, but Capri is a mountainous island and therefore it will be long and tiring.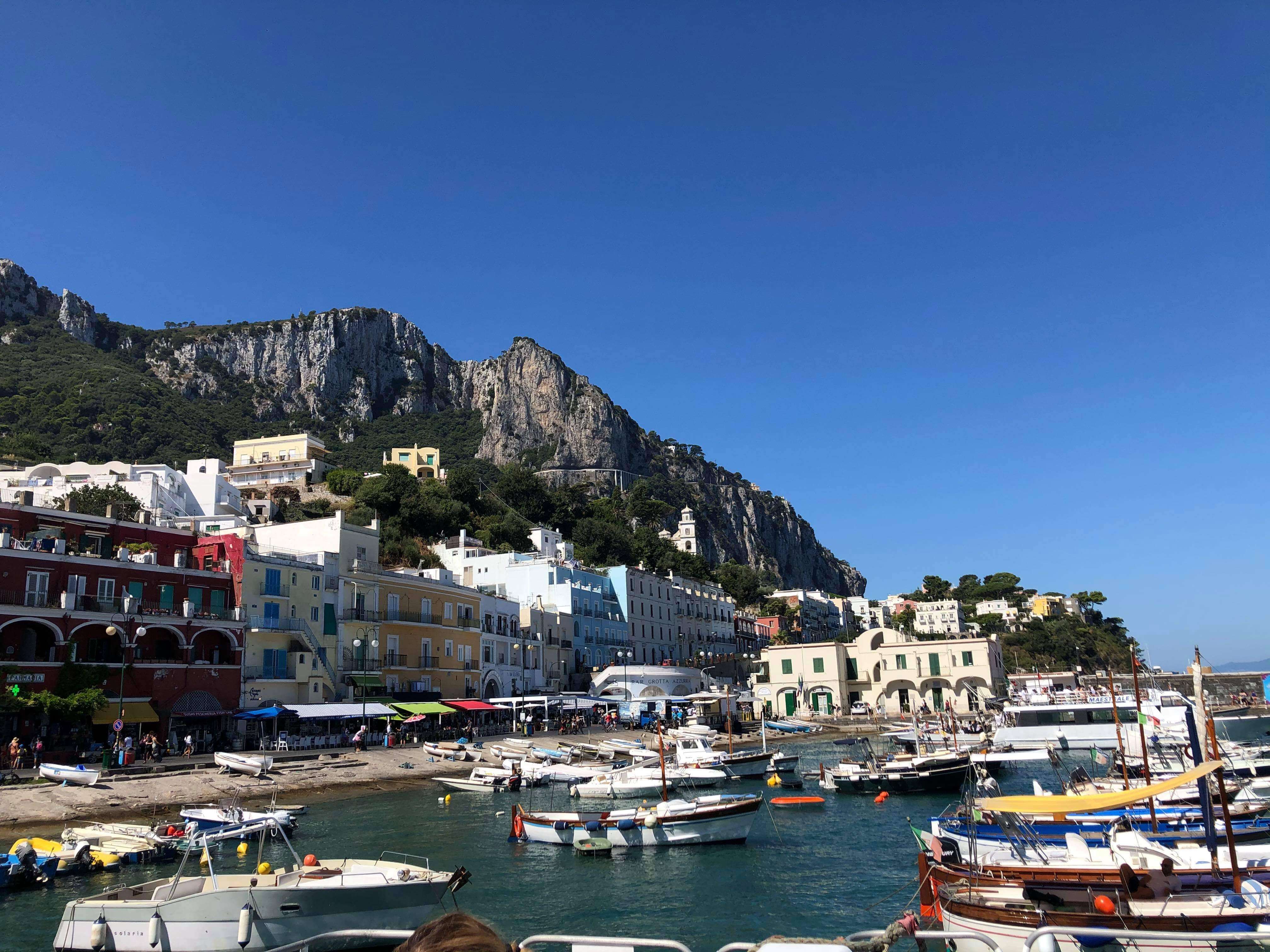 Funicular Cable Car
Rather than walking to the central Piazzetta, you can grab the funicular Cable car at Marina Grande, which will take you up to the square in less than 5 minutes. The funicular runs every 15 minutes and only costs 4-5 euros.
Public Bus
There are also several public buses you can catch to explore the Isle of Capri, taking you to Capri Town or the various Capri beaches. These are essentially minibusses, so they only carry a small number of people, but they are cheap (1.80 each trip) and effective.
Sorrento to Capri Day Trip | 5 Best things to do
So, let's face it, you are on a day trip, so you won't have long to complete your Capri Itinerary. So, below you will find the five best things to do in Capri, so you get the most out of your trip.
1) Shopping and dining on the Piazzetta
The Piazzetta in Capri town is the first place you arrive from the funicular cable car. This square provides stunning views across the island. Not only that, but you can wander through Capri town for hours enjoying the boutiques and designer shops. The Piazzetta is also a great place to grab some Italian pastries or stop by a charming restaurant.
2) Visit the Best Capri Beaches
A Sorrento to Capri day trip wouldn't be worth doing if you didn't factor in at least a little sun time. The most popular Capri beach is located a lovely walk down from Capri town to the south side of the Island to the Marina Piccolo. It was at this bay that sirens seduced Ulysses.
The sand is pebbly, but the water is beautiful and clear that you can see fish. There are some unique limestone rock formations to climb or jump from and the infamous water arch.
If you're planning on staying on the beach for several hours, then paying for entry to a beach club is probably the best option. There are loads of beach clubs to choose from so do some research beforehand as they have different facilities and costs. In Capri, there are a few 'public' areas that are massively overcrowded but which you don't have to pay to use. You might have to wait to get a spot, though, but it's worth saving the money if you're planning on exploring.
3) Monte Salaro Chair lift
One of the must-do things in Capri is to take the chair lift to Monte Solaro to see the incredible panoramic views. This viewpoint is a total Instagram-worthy spot worth factoring into your Capri itinerary.
To grab the chair lift, you will need to get to the Piazza Vittoria in Anacapri, which is most accessible by public bus. Then, take the stairs when you get off, and you'll approach the chair lift. Walking is also possible, but it will take at least an hour, so not the most optimal on a Sorrento to Capri day trip.
The Monte Salary chairlift takes you 589 meters above sea level, thereby guaranteeing you the best views of Capri. The chairlift takes less than 15 minutes to get you to the summit. Opening times are typically 9:30-5:30 and will cost a 12 euro return.
4) Take a Boat Trip to the Blue Grotto
The Blue Grotto is infamous on Capri Island, and you've hopefully booked a transport option with a trip included. You can get to the Blue Grotto by public bus from Anacapri or a boat from Marina Grande if you haven't.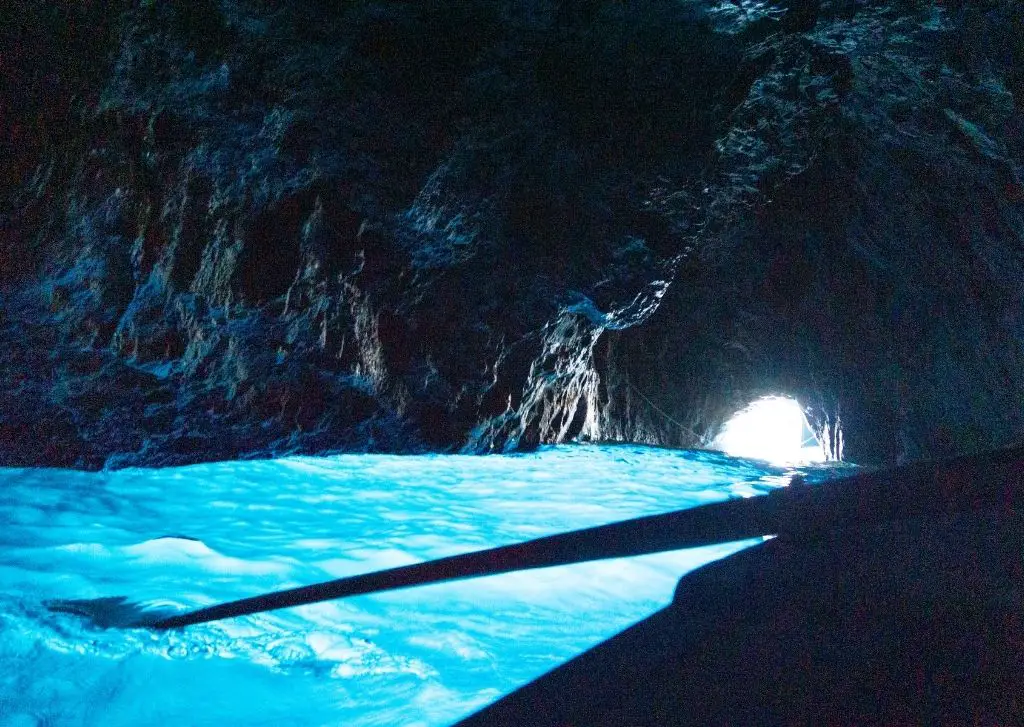 The Blue Grotto is so famous because it is a small cave that lights up in a bright illuminated blue caused by the reflections from the water. While the light is visible all day, it is most spectacular when the sun is at its strongest, midday. The Blue Grotto is a cultural center, and admission is payable (17 euro). Unfortunately, a wooden rowboat is the only way to enter the cave. So it might not be for you if you're not keen on enclosed spaces.
5) Tour the Garden's of Augustus
The gardens of Augustus are a unique sight that you must visit if you have time on your Sorrento to Capri day trip.
You can get to the gardens from the Piazzetta of Capri by taking the public bus titled 'Via Vittorio Emanuele' to 'Via Federico Serena' and then 'Via Matteotti.'
The gardens of Augustus are a series of panoramic flower-decked terraces overlooking the Faraglioni rocks on the one side and the Bay of Marina Piccola and Via Krupp on the other. The gardens can get crowded, so aim to get there early or late so you can enjoy the views in peace and take those iconic Instagram shots. The entrance is only 1 euro, so this makes it one of the cheap things you can do in Capri.
How to get back from Capri
Be careful with your return if you're on the return Sorrento to Capri ferry, especially if it's the last few ferries of the evening. Multiple ferries are going to different places, and it is hectic and chaotic. If you miss your ferry, you can't use the ticket for another time, and you could be stranded. Just give yourself enough time to work it out and avoid any stress.
Travel Tips for your Sorrento to Capri Day Trip
Take the cable train so you can use your time to explore.
Budget – this is a pretty expensive island; for example, a pint costs 10euro, so the cost can rack up quickly.
If you plan to use the public parts of Capri beaches, get there early as they become crowded quickly.
Take time to get your bearings when you get off the ferry – know where you catch your return to avoid the chaos when everyone tries to leave at the same time.
If you'd like some more inspiration on what you can see on Capri Island, check out 'Get Your Guide' for more ideas, even if you choose to do it alone. I would love to hear how you find your Sorrento to Capri day trip, so let me know in the comments. If you're traveling more of Italy, also check out my post on doing an Amalfi Coast road trip or the things to do in Naples. 
Pin Sorrento to Capri Day Trip for Later
Sharing is caring, please pin this post for future reference and so that others may easily find it. Likewise, if you have any questions or suggestions, please let me know in the comment field below.