Manchester Airport Parking Reviews – Which Option Do you Choose?
Are you looking for an easy and convenient way to park at Manchester Airport? With the help of online reviews, it's now easier than ever to make the right decision when it comes to parking at an airport. In this blog post, we'll look at reviews of the most popular Manchester Airport parking options based on experiences from frequent travellers who have used them. From customer satisfaction ratings to cost-effectiveness comparisons, we have everything you need to make your next trip smoother and easier. Read on to learn more about the best parking options at Manchester Airport!
Manchester Airport Parking Reviews – List of Contents
This post contains affiliate links which means I may earn a small commission if you choose to buy anything from them. This is at no extra cost to you and In doing so you help to keep this site running, so thank you in advance.
Overview of Manchester Airport Parking Options
Manchester Airport is one of the busiest airports in the UK, welcoming millions of passengers every year. With such a high volume of travellers, it's important to have a range of parking options that are reliable and cost-effective. The airport offers various parking options, including long-stay, short-term and valet services, each with perks. There are also many offsite parking options that offer a more affordable way to park, as long as you don't mind a short transfer.
Onsite Manchester Airport Parking
If you want the convenience of parking within the airport grounds, several options are available, each with pros and cons. Read my Manchester Airport parking reviews below for a breakdown of what to expect.
Manchester Long Stay Parking Reviews
Long-stay car parks provide great value for money for those looking for an economical way to park at Manchester Airport. Moreover, most onsite airport parking options come with free last-minute cancellation, offering less risk if your travel plans are disrupted.
Pros:  
Prices start from just £4 per day, making long stay parking is a great option for budget-conscious travellers.
All long-stay car parks are conveniently located within proximity to the airport's terminals, as well as offering 24/7 security and access to shuttle buses.
Cons:
Even though Manchester long-stay parking is on the airport grounds, you will need to catch a free shuttle bus to the terminal.
Manchester long-stay parking It is cheaper than other onsite options but not as affordable as parking offsite.
You need to stay for one week or more to get the best deals on this parking.
Manchester Airport Short-Stay Parking Reviews
Short-stay car parks offer more flexibility when compared to their long-stay counterparts; they provide easy access to your terminal.
Pros:
Many travellers opt for this option due to its convenience; you can drive right up to the terminal building and avoid any of the hassle with shuttle buses or transfers.
Cons:
Short-stay Manchester parking has a higher price point with costs starting from £6 per day.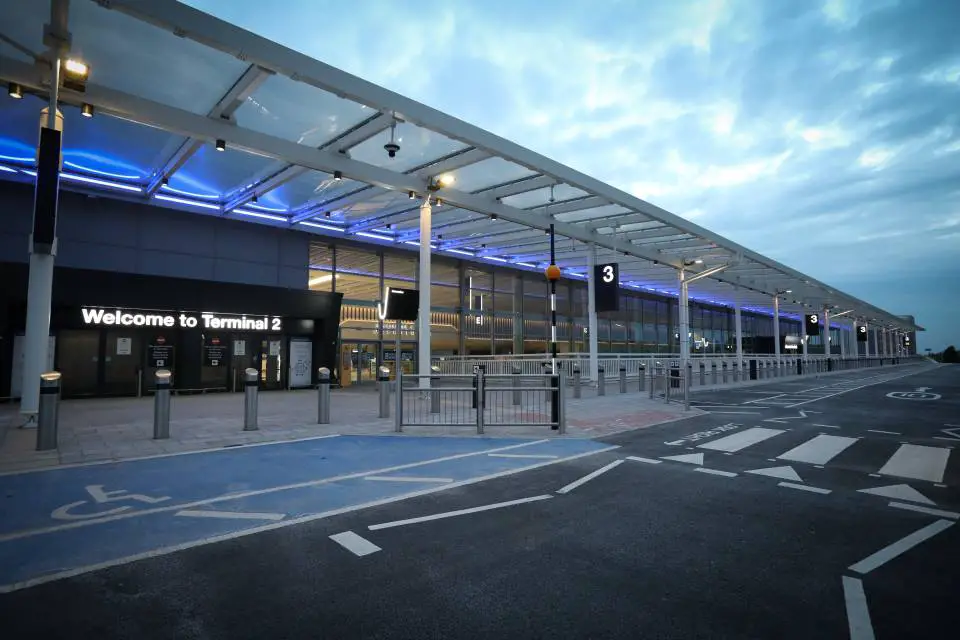 Meet and Greet Manchester Airport Parking Reviews
If you're looking for an efficient and convenient way of getting to Manchester Airport without having to worry about finding somewhere safe to park your car – then why not take advantage of the Meet and Greet Manchester airport parking. This option is available from all three terminals and gives you peace of mind knowing that your car will be safely parked in an offsite secure compound while you travel away on holiday or business trips.
Pros:
The meet and greet at Manchester airport is a convenient service allows you to drop off your car right outside your chosen terminal and have it waiting for you upon your return – saving time and energy!
Collect your car by scanning your receipt which automatically releases your keys, and within a short walk, your car awaits you.
Prices are often competitive against other parking options at Manchester Airport.
Cons
If you're not comfortable with someone else driving your car or concerned about where it might be parked, then this option may not be for you.
It is the most expensive parking option, however it isn't vastly different considering the ease of use.
Manchester Airport Multi-Story Car Park Reviews
As a frequent traveller, this option is my personal favourite. Just drive in, find a spot undercover and away you go.
Pros:
One of the closest parking options to each of the Manchester terminals
Park your car yourself and know exactly where it will be while you're on holiday.
Cons:
During peak season or at peak times, it may take you a while to find a parking space.
You will need to keep your keys on you during your holiday.
Manchester Airport Offsite Parking Alternatives
If you're looking for cheap car parking at Manchester airport, a private provider is a great alternative to the onsite parking. These services offer safe and secure car parks close to the airport, providing convenient access and cost savings compared to onsite parking rates. Most private car park services allow customers to book their space online with detailed information about their car park and its location.
Additionally, some hotels in the area offer stay and park facilities with free shuttle buses to the terminal building. This option is ideal if you have an early morning flight or don't want the hassle of struggling with bags through public transport systems!
APH Park & Ride Reviews
The APH Park and Ride Manchester Airport reviews are mostly positive. This car parking facility provides an offsite alternative with a reputable company that serves many UK airports. Located at Bradnor Road, Sharston Ind, Area Manchester M22, you'll need a shuttle bus to get to your desired terminal.
Pros:
Drop your car off in one of the welcome bays and it will be parked for you, and you won't need to take your keys on holiday.
APH has some of the best Manchester Airport parking reviews of all facilities; even beating some of the onsite parking options.
Cons:
During the quieter hours/seasons, there aren't as many shuttles, so you may wait a while for your collection or return.
Park & Ride Manchester (Skypark)
If you have a preference as to whether you want your car under cover or kept outside, this offsite option might well be for you. Located at 11 Railway Road, Stockport SK1 3SW, UK
Pros:
Park & Ride Manchester doesn't often feature on general parking broker sites, which means it often has very competitive prices that not everyone will know about!
You'll drop your car at a check-in bay and be directed to where your car will be parked while you're away – you will keep your keys.
Cons:
The carpark is at an NCP, which can be a little confusing if you don't read your documentation correctly.
You have to call 30 minutes before dropping off and when you have collected your luggage so that everything can be ready for you. Transfers are on demand, so ensure you do this; otherwise, you
may have a longer wait.
The airport imposes levy charges that are not included in the price (£5 on entry and £6 on exit).
Jet Parks Ringway
Jet Parks Ringway may be an offsite car park, but Manchester Airport still owns and runs it. Located at JetParks Ringway, Shadowmoss Road, Manchester M22 5WE, is within close distance and offers a price comparable with third-party parking companies.
Pros:
Drop your car off in one of the welcome bays and it will be parked for you, and you won't need to take your keys on holiday.
As the airport runs the shuttle buses, they run on a 15-minute schedule 24 hours a day from bus stop 9. This frequency makes it less likely you'll have to wait too long for one, and you don't have to
call up in advance to notify them that you're on your way.
Cons:
Jetparks Ringway has a lot of positive parking reviews, however, it scores less than the alternatives available and the worst by a few points against other parking options operated by Manchester Airport.
There have been some parking reviews that report that the bus doesn't stop at all of the bus stops in the car park, leaving people to walk to their car with their suitcases.
Jetparks 3
Another offsite parking facility run by Manchester Airport is Jetparks 3. The main difference is that this carpark is slightly closer to the airport and so the transfer time is less, the reviews are better, but the facilities cost slightly more. Just be sure to check the address and the bus destination so you don't accidentally end up at the wrong car park!
Airport Parking Comparison Sites
Parking comparison sites essentially provide a search engine that enables you to find airport parking at
major airports across the UK. If you're looking for good deals on parking, then it is worth looking at these first. You can read the Manchester airport parking reviews and book confidently due to a flexible cancellation policy.
Pros
Wide range of airport parking providers available, including park-and-stay hotel options.
Price match guarantee so you know that you will have the best possible price.
Flextras such as free cancellation right up until the time of your booking.
The major Airport Car Park Comparison Brokers are:
Skypark Secure   
Travelsupermarket
If you get a funny feeling of Deja Vu when you look at some of these sites, it is because they look
and feel is very similar, and many of them are owned by Holiday Extras. The deals/prices will be very similar across the sites but do look out for any additional 'booking fees' or special promos that make the prices cheaper.
Not only do you get visibility of the Manchester airport parking reviews on these sites, but you have access to much cheaper providers. For example Toad Parking, Hunters and Care Parks are usually included in the list and most people have never heard of them before.
Tips on Getting the Best Parking Deals
When searching for a Manchester Airport Parking deal, it's important to consider how long you'll be staying at the airport. Some companies offer discounts when booking ahead of time or even provide discounts exclusive to their customers. In addition, make sure you check out any special promotions or discounts offered by certain providers during peak travel times, like holidays or bank holidays.
If cost is a factor when searching for Manchester Airport Parking options, use one of the comparison providers listed above to find the best deals. These websites allow you to compare prices between multiple providers and often offer extra discounts when booking through them directly. It's also worth
taking advantage of the loyalty programs many parking providers offer, as this can result in substantial savings over time.
Be sure to consider convenience factors when choosing your Manchester Airport Parking provider. If you'll be returning late at night or early in the morning, then you might not want to opt for off-site parking, even if it does offer shuttle services.
Manchester Airport Parking Reviews in Summary
Manchester Airport has a wide variety of parking options to choose from, ranging from short stay to long stay. But the choices don't end there, as many more offsite airport parking options are available. Whether you are looking for convenience or affordability, there is an option that will fit your needs. With the latest prices available online, it's never been easier to find the best deal. So take some time to explore all the different parking options at Manchester Airport and find the one that's right for you! Don't forget to
check for special offers and discounts in advance – it could save you a lot of money. Book today and start your journey stress-free!
If you're looking for more travel tips and resources then be sure to check out the following posts:
---
Need some help with your holiday plans?
Do you like to travel but hate spending hours online researching holidays and trying to find the best deals? Here's why I come in. VeggTravel is an independent travel agent that does the hard work for you. I do the research, compare the prices and build the itinerary for your dream holiday, cruise, city break, or activity. Plus, my agent connections often mean exclusive offers on hotels and flights that you can't find anywhere else.
Rest assured that any holiday booked through me will give you the relevant ABTA, CILA or ATOL protection you need. Not only that, but I'll provide you with bespoke service tailored to your needs, and I'll be there every step of the way, ensuring that things go smoothly or being your single point of contact if things don't.
Ready to take your vacation to the next level? I don't charge a fee, so if you're based in the UK, drop me a mail and see what I can do for you.

---
Pin this Guide to Manchester Airport Parking for Later
Sharing is caring. Please share this post on social media and if you have any feedback or questions, leave me a comment below.