Things to Do in Gibraltar in a Fun Filled 3 Days
Some people mistakenly believe Gibraltar is an island, yet, it is a beautiful country at the very tip of Spain. As Gibraltar is a British territory, you might expect Gibraltar to be just like Britain. There are certainly similarities in terms of currency and the English language, yet Gibraltar is very much its own country, and there are undoubtedly Spanish influences. Most people only plan to visit Gibraltar on a day trip or over a 3 day weekend, but as there are so many things to do in Gibraltar, read on to see why it will also suit a more extended holiday.
This post contains affiliate links which means I may earn a small commission if you choose to buy anything from them. This is at no extra cost to you and In doing so you help to keep this site running, so thank you in advance.
Things to do in Gibraltar – Table of Contents
10 of the Best Things to do in Gibraltar
If you're only going on a short trip, it is not as much time as you think to fit in all the things to see and do in Gibraltar. So take a look at the options below and prioritise which are must-do's for your weekend away.
1) Take the Gibraltar Cable Car to the Upper Rock Nature Reserve
If there's one thing people know about Gibraltar, it has the only wild Barbary macaque monkey population in Europe. However, the Barbary apes are not wandering around the streets. Instead, they can only be found on the iconic rock of Gibraltar and in the apes' den, making a visit to the nature reserve one of the top activities in Gibraltar.
There are a few different ways to get to the upper rock nature reserve, but the most convenient is the Gibraltar cable car. Not only will you enjoy the superb views from the cable car, but you will also save yourself precious time. You can walk to the cable car station in 30 minutes or so from Ocean Village or grab a taxi if you want to save your feet.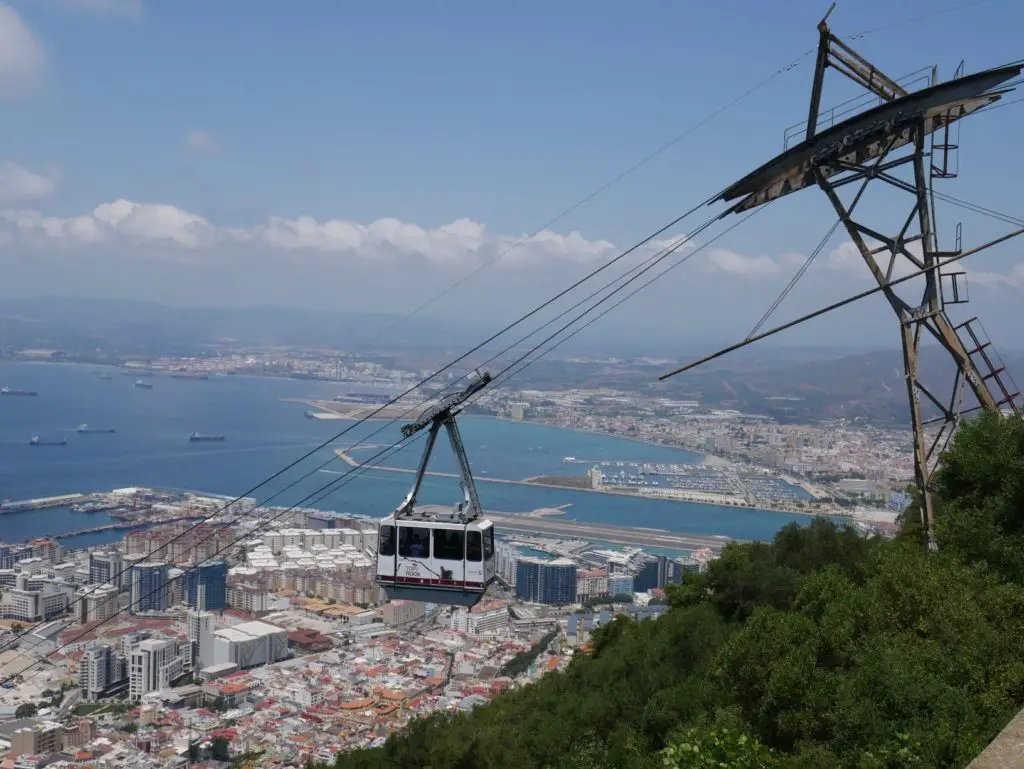 Unlike other cable car attractions, there is only one cable car to take you up at a time, but they arrive every 10 to 15-minutes, and you will share it with other people. Buy tickets in advance or at the ticket counter at the cable car station.
You can take photographs of the rock of Gibraltar from many different viewpoints, and you will see plenty of monkeys.
To make the most of your 3 days in Gibraltar, check my Gibraltar travel tips and hacks while you're on the rock.
2) Explore the Gibraltar Rock Nature Reserve
Not all tourists know that a visit to the Upper Rock Nature Reserve isn't included in the cable car price. Likewise, many people don't even know that the Rock is a nature reserve that houses many fun activities and things to do in Gibraltar.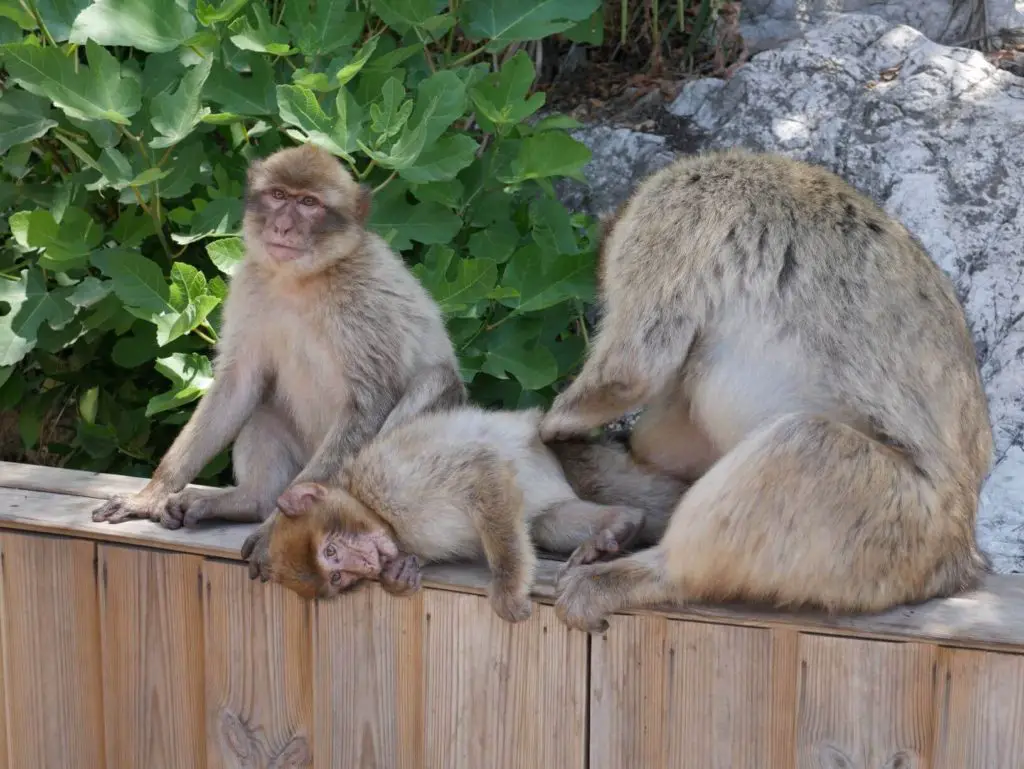 Depending on how adventurous you are, you can just visit the top of the Rock and see the Gibraltar monkeys. However, if you'd like to visit the upper rock nature reserve, the entrance costs an additional £12. It is worth the small cost because it has so many of the best things to see and do in Gibraltar:
Walk the glass skywalk and platform overlooking a beautiful Gibraltar beach
Hike one of the many trails and discover canons, fortresses, and monkey's on route
Explore the intricate details of St Michael's Cave
Walk down the Mediterranean steps to the Apes den
Tip-toe across the narrow Windsor Suspension Bridge as you gaze at the amazing views beyond
Discover the history of the World War II great siege tunnels
Visit the Moorish Castle, the old prison centuries-old
Buy tickets for the nature reserve park at the top of the Rock or in advance from the Gibraltar tourism board, who will give you more information on the activities listed above.
You can see why it is hard to do all of this in 3 days in Gibraltar! However, there is also an e-bike tour of the upper Rock and the nature reserve, which will help you focus your time and save your legs!
3) Take a Gibraltar Dolphin Watching Tour
Gibraltar is in a prime location for ocean life due to the straight of Gibraltar. This narrow stretch of water separates the Mediterranean sea from the Atlantic Ocean and South Europe from Morocco, North Africa. This ocean diversity enveloping the strait of Gibraltar is perfect for dolphins, and you can't do 3 days in Gibraltar without seeing them!
Dolphin tours from Marina Bay are fantastic. Not only is the chance of seeing dolphins high, particularly around September and October time, but there are several different species you can see. Of course, you're most likely to see the common dolphin, but there is also a possibility to see the striped dolphin, bottlenose dolphin, and sunfish. On the odd occasion, you might even see whales or Turtles!
A dolphin tour typically lasts about an hour and a half, and in that time, you can expect to see lots of dolphins. The staff on the dolphin watching tour I went on were very knowledgeable and fantastic at spotting dolphins coming up and taking photos. Being out on the open Ocean on a majestic dolphin safari is one of the best things to do in Gibraltar.
Tip: There are also tours that combine both the cable car to the top of the Gibraltar rock and dolphin watching.
4) Explore the Beautiful Alameda Botanic Gardens
Located to the right of the cable car station is the beautiful Alameda Botanical Gardens, where you can easily spend a few hours just enjoying the colourful flora and fauna. There is even an open-air theatre in the Gibraltar Botanic Gardens, and stunning ponds surround it. It is so beautiful it was booked out for a wedding when I visited.
In addition to the beautiful tropical flowers and plants, you can also see cannons and statues that represent the history and culture of the city. The botanic Alameda gardens provide a vibrant and relaxing space away from some of the more hectic things to do in Gibraltar.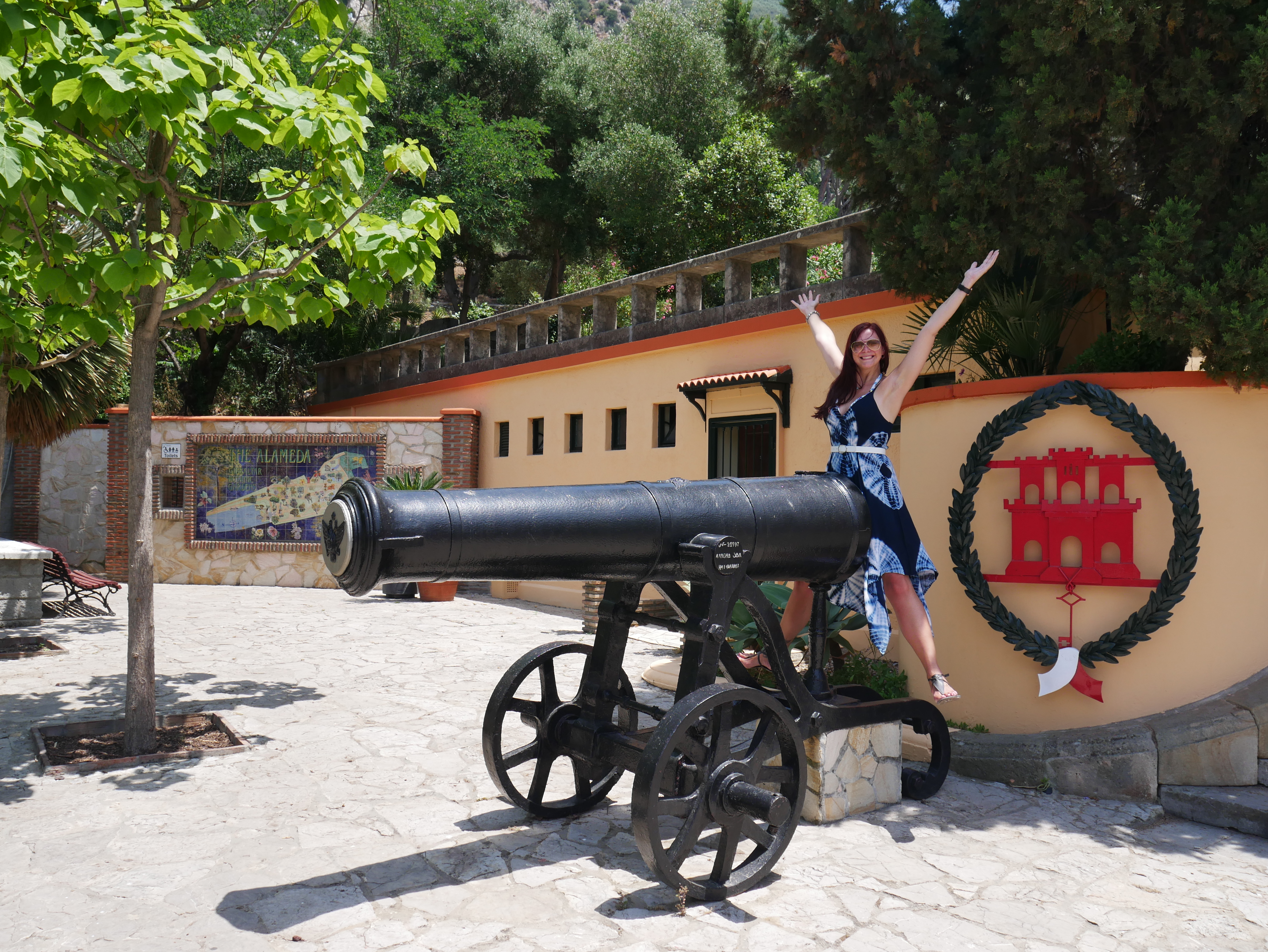 5) Support Alameda Wildlife Conservation Park
Walking a little further up through the Gibraltar Botanical gardens, you will get to the Alameda Wildlife Conservation Park. Typically I'm not one to enjoy seeing animals in captivity. That being said, this wildlife park rescues animals from poor conditions or illegal animal trades.
Some of the animals you can see in the Alameda wildlife park are Otters, Macaque monkeys, Lemurs, Reptiles and birds, and even Hogs.
The entrance is affordable at only £6, and it's good to know that it's going towards such a worthy cause. The Alameda wildlife conservation park is only small and deserves a visit during your 3 days in Gibraltar.
6) Stroll around Casemates Square and Shopping Arcade
Casemates Square is in the centre of Gibraltar. As the name suggests, Casemates square has many open-air restaurants and vendors such as ice cream stalls and fish and chips cooked in the traditional British way.
However, beyond eating and drinking, Casemates Square also has a shopping arcade with unique and quirky items that you can buy, many of which are handcrafted in Gibraltar.
As you stroll away from Casemates Square, you will soon arrive at Gibraltar town centre, where you can find typical High Street shops as well as local cafes and souvenir stalls.
7) Top up your Tan on the Gibraltar beaches
For beach lovers, one of the best things to do in Gibraltar will be to get some well-deserved relaxation time on the beach. There are several different beaches in Gibraltar; however, the most popular is the eastern beach as you get the backdrop of the rock of Gibraltar in your photos.
Another popular Gibraltar beach, Catalan Bay, is a short walk from Eastern beach. This beach has rock formations in the sea and has pretty colorful houses and mountains as the backdrop. The sea isn't as pebbly as other beaches, and there are more amenities nearby.
Walk further still, and you get to Playa dos Los Catalanes, Black Strap Cove, or Sandy Bay, all of which are Gibraltar Beaches. The Sandy Bay beach is another popular beach as it has a small enclave that you can see from the skywalk on the rock. The only beaches on the southwest of the island are Camp Bay and Little Bay Beach.
As you're spending 3 days in Gibraltar, you will be able to discover at least 2 or 3 of these beaches. Or, you can of course just pick one to relax and unwind. Read my tips about Gibraltar beaches for more advice.
8)  Visit the Iconic Europa Point Lighthouse
Most places within Gibraltar are easily within walking distance. However, the Europa Point Lighthouse is on the south-eastern tip of the peninsular, so it would require a taxi unless you rent a car.
The Europa Point Lighthouse is a historical landmark and provides sweeping views of Gibraltar. Painted in the traditional red and white colours, the lighthouse demonstrates 1800s British design, although the colours were added later. The Europa Point lighthouse is still active to this day and can be seen as you're approaching from the Strait of Gibraltar.
You will also find the Sikorski memorial nearby, which pays tribute to the Gibraltar B-24 crash of 1943.
9) Enjoy a slice of Islamic Culture with a visit to the Ibrahim-al-Ibrahim Mosque
While you're visiting the Europa Lighthouse, stop by to see the only mosque in Gibraltar. The Ibrahim-al-Ibrahim Mosque is a beautiful example of Islamic architecture and culture and has the stunning backdrop of the rock of Gibraltar and surrounding mountains.
The southerly mosque was a gift from the king of Saudi Arabia and had only been standing since 1997. Therefore it is commonly known as the King Fahad Bin Abdulaziz Al Saud Mosque. It is even said to be the largest mosque in a non-Islamic country and is one of Gibraltar's most often visited places.
10) Discover the History of Gibraltar by Exploring the Old Battery's and Sieges
3 days in Gibraltar would not be complete without uncovering Gibraltar's past. When you look at a map of Gibraltar, you will see that there are battery's all over the country, and you can't help but naturally stumble across a bit of history.
Gibraltar is known as one of the most densely fortified and fought over places in Europe. After a turbulent history of different rulers, Britain gained Gibraltar from Spanish rule in 1713. Until the last siege in the late 18th century, Gibraltar faced 14 sieges and became a significant base in the Peninsular war. Moreover, its prime location at the bottom of Spain enabled the British Military to control the entrance to the Mediterranean during world war II. In doing so, Gibraltar experienced many attacks and destruction.
Today, Gibraltar still has a few British troops, but the economy is centred around tourism. However, this exciting and torrid history cannot be forgotten, and I encourage you to go on a journey of discovery while you're visiting.
Which of the Best Things to Do in Gibraltar Do You Like Most?
While there's many more things to do in Gibraltar, the list above will be more than enough for a short trip. Which do you like the best? I'd love to hear your thoughts and how you find your trip if you do visit, please leave me a comment below.
Fancy visiting Gibraltar (or anywhere else for that matter) but don't want the stress of planning it?
Do you like to travel but hate spending hours online researching holidays and trying to find the best deals? Here's why I come in. VeggTravel is an independent travel agent that does the hard work for you. I do the research, compare the prices and build the itinerary for your dream holiday, cruise, city break, or activity. Plus, my agent connections often mean exclusive offers on hotels and flights that you can't find anywhere else.
Rest assured that any holiday booked through me will give you the relevant ABTA, CILA or ATOL protection you need. Not only that, but I'll provide you with bespoke service tailored to your needs, and I'll be there every step of the way, ensuring that things go smoothly or being your single point of contact if things don't.
Ready to take your vacation to the next level? I don't charge a fee, so if you're based in the UK, drop me a mail and see what I can do for you.
---

---
---
Pin The Best Things to Do in Gibraltar for Later
Sharing is caring. Please share this post on social media and if you have any feedback or questions, leave me a comment below.