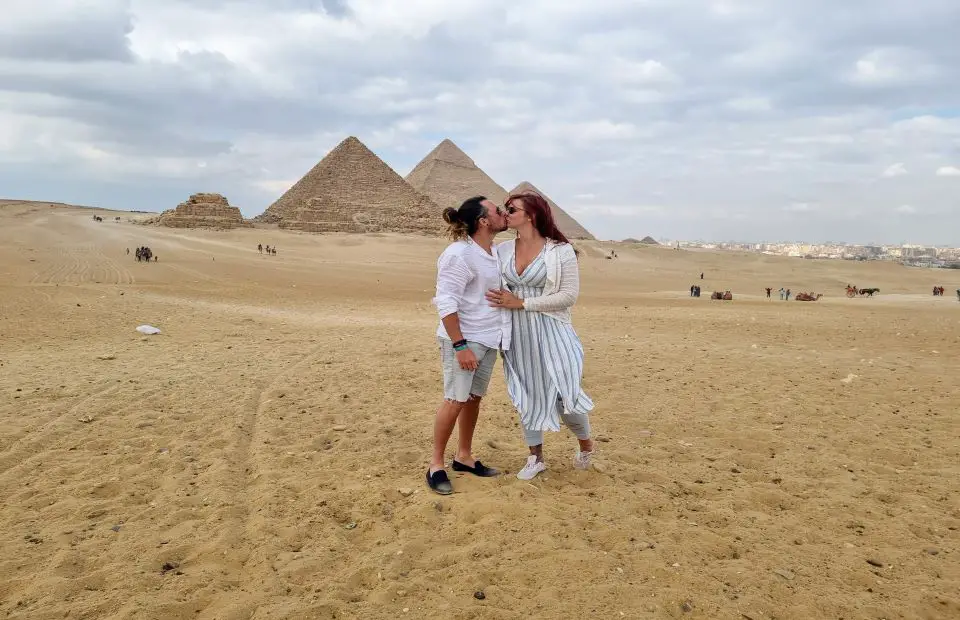 Hurghada to Cairo Day Trip – Discover Egypt's Culture
Egypt is a beautiful country, with many activities and attractions to keep you busy for days. One of the most popular activities in Egypt is visiting the capital city, Cairo. This city is a must-see for anyone looking to see some of the region's best architecture and stunning views. This city is home to some of the world's most famous mosques and some of the most stunningly preserved ancient artifacts.
If you're looking for an insight into one of the oldest civilizations in the world, or if you're looking for an old and beautiful city to visit, read on to discover some of the top things to do in Cairo and what you can expect from a Hurghada to Cairo day trip.
Hurghada to Cairo Day Trip – Table of Contents
This post contains affiliate links which means I may earn a small commission if you choose to buy anything from them. This is at no extra cost to you and In doing so you help to keep this site running, so thank you in advance.
Hurghada to Cairo Tours
If you're wondering how to get to Cairo from Hurghada, there are multiple options. If you wish to take a day trip to Cairo, then below are your choices of travel: 
Hurghada to Cairo by bus; this tour will take approximately 24 hours as a round trip, with roughly 8 hours of travel there, 8 hours in Cairo, and 8 hours back. This will typically cost £50 – £80
Hurghada to Cairo flights with an organised tour of the city; will typically cost £200+
Your own transport; a mix of buses, taxis, or Hurghada to Cairo flights
This article is based on my experiences on an organised bus tour to Cairo run by Egyptra. Different providers may have different itineraries but will usually cover the main attractions. 
The benefits of taking a Hurghada to Cairo tour:
If you're not comfortable travelling to Cairo independently then there are advantages to taking an organised tour. These include:
Local experienced guides who help bring the history to life and help you navigate the chaos of the capital safely and easily 
Armed security. Tourism is crucial for Egypt, and therefore safety is taken very seriously. The security guard ensures the bus passes all the security checkpoints on the route and that you are always kept safe.  
You can often jump the queues, and everything is taken care of for you. 
Despite the advantages of group tours, there are some disadvantages. 
You may feel rushed as you only have a limited time at each attraction. The time I was given in each location was plenty, but if you're a history buff, you may wish you had longer in the Egyptian museum. 
The tour may include stop-offs you don't want. For example, longer than necessarily comfort breaks. Additionally, you may have to visit a perfume shop or similar which feels very sales orientated and, after a long day, usually the last thing you'll want to do. 
Additional costs. For example, a Nile river cruise, camel ride etc., are all extra. However, at least on my tour, these were optional, and I didn't feel any pressure to do them. 
Hurghada to Cairo Day Trip Itinerary
Discover the City
When visiting Cairo, whether as a day trip or a full-blown trip, you'll want to explore the city centre and the endlessness of the Great Lakes. Cairo is the most populous city in the country and the largest city in the world by far.
Cairo's Old Town has cobbled streets with restaurants, bars, and charming hotels. You can also shop for the best traditional Egyptian souvenirs and clothing at many of the city's boutiques. However, you may have little time to do this if you're on an organised tour from Hurghada to Cairo. Check this in advance if you want some free time in the centre.
Visit the Egyptian Museum
The Egyptian Museum is one of the best things to do in Cairo, and accordingly, it is very busy. It can feel chaotic getting into the museum, but you will be allocated a tour guide who speaks your local language once you're there. If not on an organised day trip, you can hire audio guide books to learn more about the exhibits. 
You will be given a guided tour of the key exhibits and some free time to uncover some of the beautiful treats from ancient Egypt. From tombs, mummies and relics to jewels and hieroglyphics, the Egyptian Museum has it all. The most impressive feature is the Tutankhamun collection which is incredibly preserved and the most expansive of all Ancient Egyptian Kings. 
Lunch on the Nile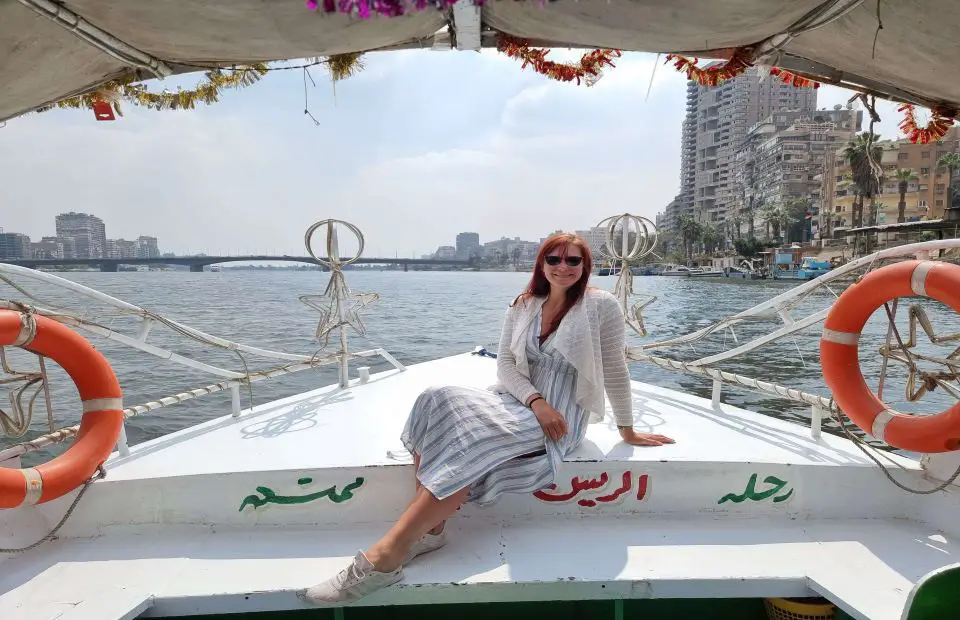 One thing you will immediately realise is that driving around Cairo is a nightmare. There is endless traffic, and the roads are chaos. On your Hurghada to Cairo day trip you will be given the option of a Nile cruise to a restaurant on the river. This will cost $10 and take around 30 minutes; otherwise, you can choose to stay on the bus. 
A trip down the longest river in the world is considered one of the best things to do in Cairo, and it is an enjoyable and relaxing way to see more of Egypt. 
The restaurant itself serves a buffet that had plenty of choices for vegetarians, which was included in the day trip to Cairo. Soft drinks, tea, coffee and also alcohol are available to buy. 
Giza Pyramids
The Giza pyramid is one of the most impressive and popular tourist attractions in the world. If you are visiting on a day trip to Cairo, you will want to see the Giza National Park and the equally amazing Camel and Atlas ruins. If you are lucky enough, you may be able to see some of these on your walk into the park.
Many attractions are within the park, such as the sphinx, but the Giza Pyramids are the most famous. Visiting the Giza Pyramids is a once-in-a-lifetime opportunity. The Great Giza is the most photographed tourist attraction in the world, and it is one of the most popular.
You can take a camel or horse & cart ride to a viewpoint where you can capture the pyramids all in one photo. If you'd rather not do this, I recommend walking the route anyway as it really is a brilliant spot for viewing the pyramids. I took a camel ride, and the handler took some great photos; however, he was extremely pushy for a bigger tip than we'd given. Be prepared to walk away if you ever feel pressured by any locals. 
Hurghada to Cairo day trip in Summary
The ancient capital is a fascinating city with a rich cultural and historical heritage. There are many things to do in Cairo, including the Great Lakes, the Red Sea, the Giza Pyramids, and the Gobi Desert. While the journey from Hurghada to Cairo is long, you will be able to sleep for a lot of it. Take a pillow and some layers that you can add/remove for comfort. Now that you know what to see and when to visit on your day trip to Cairo you can plan accordingly. You can check and compare the tour below with others in this thread for price and availability before you decide:
If you like this post, you might also like to read:
Why go through the hassle of planning your trip when I can do it for you?
Do you like to travel but hate spending hours online trying to find the best deals? Here's why I come in, an independent travel agent that does the hard work for you. I compare prices from all the top travel sites so you can easily find the top deals. Plus, my agent connections often mean exclusive offers on hotels and flights that you can't find anywhere else. Ready to take your vacation to the next level? Drop me a mail and I'll help you every step of the way.
If you're keen to travel smarter yourself and have the opportunity to start your own business, then do it! Take the leap. Whether you want to travel more for less or make a career from travel, I can give you insights into the industry and help you get started.

Pin This Day Trip to Cairo Guide For Later
Sharing is caring. Please share this post on social media and if you have any feedback or questions, leave me a comment below.