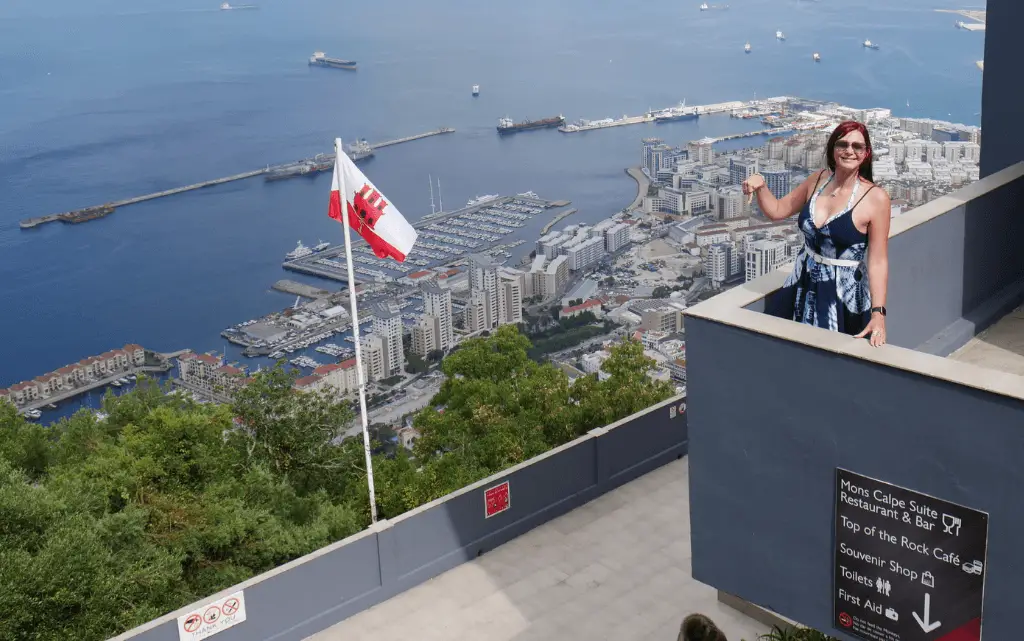 Gibraltar Travel Tips | 13 Ultimate hacks
Gibraltar is a small country located at the tip of southern Spain on the Mediterranean ocean. Gibraltar is actually a British overseas national territory known to many as 'the Rock'. Accordingly, there are many things about Gibraltar that are quintessentially British, contrasted against features that are delightfully Spanish.
This mix of cultures and traditions makes Gibraltar one of the best places to travel in Europe which is popular for tourists worldwide. So if you're looking for an active beach holiday, then take note of these Gibraltar travel tips so you can enjoy a cheap weekend in Gibraltar.
---
This post about Gibraltar Travel Tips contains affiliate links. This means I may earn a small commission should you choose to make a purchase using my link, but this is at no extra cost to you. I lonly recommend things I would use/do myself. Thanks for your support .
---
Gibraltar Travel Tips | Quick Reference Guide
---


---
13 Ultimate Travel Hacks & Gibraltar Travel Tips
Gibraltar Planning & Packing Tips
Tip 1 – Take a universal travel adapter
Even though Gibraltar is a British overseas territory you might still need to take two different forms of travel adaptor. While you will find the classic 3-pin UK plug sockets in most places, you might also find the 2-pin European socket.
Solution: Take a universal travel adapter or extension lead so that you've got enough juice for all your devices.
---


---
Tip 2 – Take the right currency
Gibraltar has its own pound sterling so if you're coming from the UK, you can take your own currency. Most cash machines allow you to withdraw GBP or Euros, however prices are stated in GBP so it is easier to pay in pounds.
Solution: Take or convert your cash to Great British Pounds
---
---
The Rock of Gibraltar Travel Tips
Tip 3 – Get a free cable car return journey
When you're visiting the Rock of Gibraltar, you will be compelled to catch the cable car. Normally, the cable car journey costs approximately £18. However, an ultimate hack to make a cheap weekend in Gibraltar is to book a reservation at the Mons Calpe suite restaurant at the top of the Rock. If you book in advance, you will receive a complementary return cable car ticket.
Not only is the Mons Calpe suite a trendy restaurant with amazing views, you can enjoy tasty food as you watch the monkeys and not worry about them stealing it! I had a vegetarian afternoon tea when I visited and it was delicious.
Solution: For a cheap weekend in Gibraltar, save money by spending what you would spend on a cable car on food/drink in Mons Calpe Suite instead.
---
---
Tip 4 – Don't feed the monkeys (accidentally or not)
Everyone knows that Gibraltar is famous for wild Barbary Macaques. When you visit the Rock, ensure that you take a secure bad and avoid anything that rustles. The cheeky monkeys will have no issue trying to jump on you to try and steal things.
Solution: Make sure your belongings are secure and walk with your backpack on your front as the monkeys are less likely to steal from you!
---
---
Tip 5 – Plan your visit to the Rock of Gibraltar Nature Reserve in advance
The rock of Gibraltar is a beautiful and extensive nature reserve with many different hiking trails of varying difficulty. You can choose to just visit the top of the rock and you will be sure to see monkeys. However, there is so much more to see and do in the Gibraltar nature reserve it is well-worth the additional £12 cost.
Some of the attractions you can see are the Skywalk, the World War II Great siege tunnels, St Michael's cave, Moorish Castle, Apes Den and the Windsor Suspension bridge.
Solution: While it's not impossible to see all these things in one trip, it will require extensive walking and in Gibraltar sun so you may want to split this journey over a few days.
---
---
---
Beaches of Gibraltar Travel Tips
Tip 6 – Decide whether staying next to the beach is worth the travel
If you have beach holiday ideas, what you need to know is that Gibraltar has two sides.
On the East side the majority of the beaches, whilst on the South and West side is the harbour, airport and associated nightlife and attractions. Therefore, choosing where to stay is an important aspect. Do you want to stay close to the beaches and don't mind travelling that bit further to the best restaurants and bars? Or would you prefer to be at the heart of the action in the location where you can watch incredible sunsets?
Solution: Pick a hotel that matches the intention of your trip to limit the walking/taxi's you need to take
I personally stayed in Ocean Village at the Sunborn Yacht hotel and definitely glad to be in the heart of this stylish and trendy part of Gibraltar.
---
---
Tip 7 – Take your own food and drink to the beach
Unlike many other European countries, Gibraltar beaches have very little amenities. While there are a few bars or restaurants, they have limited food serving hours and menus (particularly if you're veggie!).
On the plus side, you can enjoy the Gibraltar beaches with limited interruption from beach vendors constantly trying to sell you something. However, while you may be able to grab an ice-cream or a cold sangria from one of the few bars, this is not very convenient.
Solution: stock up on supplies (food, drink, etc. ) from a supermarket in advance. Not only will this help provide a cheap weekend in Gibraltar, it also means you have everything you need at your finger tips.
---

---
Tip 8 – If you need shade, pack a parasol for the Gibraltar beaches
Gibraltar's beaches are sandy, spacious and the perfect place to relax. However, if you've ever seen photos of Gibraltar's beaches you will see a plethora of different colour parasols. This is because there are typically no places to rent parasols or sun lounges. Furthermore, the golden sand gets very hot and it can be painful to walk on!
Solution: Take your own portable beach umbrella and invest in some good water shoes/thick soled flip flops. Another Gibraltar travel tip is to take a thick beach towel to shield yourself from the heat of the sand.
---
---


---
Tip 9 – Don't assume everyone speaks English
Whilst English is commonly spoken, there are still places where locals don't have a good grasp of the English language.
Around the Casemates Square, town centre and Ocean Village, English is really good and you will find a lot of expats that live in Gibraltar. However, this is less so in the Gibraltar bars or restaurants on the beaches when Spanish is often the native language.
Solution: Brush up on your Spanish, you will only need a small amount to get by in Gibraltar but don't just assume everyone speaks English as they don't.
---
---
Ocean Village & Casemates Square Gibraltar Travel Tips
Tip 11 – Prepare for an early (ish) night
Gibraltar can be quite lively but it is far from a party destination. Casemates Square and Ocean Village are typically the areas to head for the best nightlife. That being said, even on a weekend most bars close between 11 – 1 a.m.
Admiral Casino is open till 6 a.m. and has live tables, bingo, slot machines and bars and a balcony you can watch the sunset from. The only disappointing thing with this casino is that there is no drinks service for playing.
However, if you're looking for a cheap weekend in Gibraltar but you like a little flutter, then head to the Casino in the Sunborn Yacht Hotel. The casino is much smaller and doesn't have live tables, but there are plenty of slots machines and you get a limited range of free drinks while your playing!
Gibraltar Travel Tips Solution: head to the Casinos for a longer night… just set yourself a limit and leave when you're hit it.
---
---

---
Tip 11 – Head to the front deck on the Dolphin tour
Another one of the top things to do in Gibraltar is a dolphin tour which regularly run from the Ocean Village Harbour. If seeing the dolphins is a must see feature of your trip then the best chances are in September and October. That being said, the tour companies boast 85% success rate the rest of the year.
I have only ever seen dolphins once before and that was in the Maldives. The ease of seeing the dolphins in Gibraltar and the amount of them, definitely surpasses this experience.
Solution: One of my ultimate Gibraltar travel tips is to get a seat close to the front of the boat so that you can get the best spot to see the dolphins. Also take videos rather than photos as you can then pick the best stills, otherwise you might miss some really good shots.
---
---
---
Before you head home, Gibraltar Travel Tips
Tip 12 – Grab your Souvenirs Early
If you want to grab a few souvenirs from Gibraltar, make sure you know when the shops open and close. Gibraltar sticks to standard opening hours and even on a Saturday, a lot of the normal shops in the town centre earlier than expected.
Solution: don't leave souvenir shopping until the last minute and factor in standard store closing times. The airport will end up being your only option and is relatively limited (and more expensive), so plan in advance.
---
Tip 13 – Take advantage of the cheap duty free
Gibraltar, like many places in Spain, has really low priced alcohol, cigarettes and tobacco. If you're travelling from the UK the new rules around alcohol means that you can take up to 4 litres per person through customs. This is a very generous amount considering the much stricter restrictions there are from other European countries.
Solution: If you're planning a cheap weekend in Gibraltar then grab cheap drinks from the supermarket or consider taking some home. Even if you don't drink alcohol yourself, you will end up with many cheap gifts.
---

---
Gibraltar Travel Tips, Final advice
Gibraltar is a fantastic country which I don't think gets enough credit. Sure there's similarities with England that mean it isn't quite as cultural as going to other European countries, but there's still a lot of Spanish influence and charm.
At the time of writing you can enter Gibraltar easily as it is on the green list and therefore entry requirements are somewhat relaxed, especially if you hold a valid covid-19 vaccines certificate. Always check the foreign travel advice and Gibraltar travel tips before you plan your holiday.
I'd love to know whether you have any additional Gibraltar travel tips or how you found these hacks on your visit.
---
---
Pin the Gibraltar Travel Tips for Later
---